La Candelaria
Bogotá, Bogotá, Colombia
A historic neighborhood in the city's downtown, it is the equivalent to the Old City in other cities. The architecture of the old houses, churches and buildings has Spanish Colonial, Baroque and art deco styles. It houses several universities, libraries and museums. One of the coolest places in Bogota - highly recommend.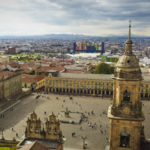 Plaza de Bolívar
11-10 Carrera 7, Bogotá, Bogotá 111711, Colombia, +57 601 4629226
The plaza is a good place to start to truly explore the old city. Once leaving the plaza, walk towards the mountains, wonder around the cobblestone streets, and eat good street food. Do not walk away from the mountains - walk only towards the mountains.
Osk peru
8525 Carrera 13, Bogotá, Bogotá 110221, Colombia, +57 601 6318175
With sister franchises in Chile, Peru, and Argentina, the Bogotá location of "Osk" owes its success to excellent food, great ambiance, and good service. The menu is based on Nikkei cuisine, a Peruvian-Japanese fusion, and features dishes like grilled shrimp with red curry-leek sauce and soy-marinated whole fish with crispy garlic, almonds, and Peruvian chiles. Highly recommend the truffle foie gras, the salmon crispy rice, and the lobster over hot coals. Exotic food but not expensive.
Restaurante Casa San Isidro
Bogotá, Bogota 110311, Colombia, +57 320 5796900
Sits on top of the Monserrate mountain. Overlook all of Bogota while you eat delicious French food, some of which is cooked tableside. To get to this restaurant, you must take a cable car to the top of the mountain (about $3 roundtrip). Highly recommend this restaurant.
Petronio Cocina de autor
84-99 Carrera 22, Bogotá, Cundinamarca 111211, Colombia, +57 601 7731187
Amazing brunch spot. Average meal is around $4, and you get so much food. I would try and make a reservation as walk-ins can be hard. Expect to wait for your food though. It is a very laid-back atmosphere, but the quality and quantity of the food is worth it.
Restaurante Mambo Latín Nikkei
13a-06 Calle 93a, Bogotá, Cundinamarca 110221, Colombia, +57 302 3570909
Highly highly recommend. Beautiful ambiance, with even better food. Bang for your buck, this restaurant is top notch. Their fish is extremely fresh, and their meat is cooked tableside.
AC Hotel Bogotá Zona T Rooftop
12-66 Avenida Calle 85, Bogotá, Cundinamarca 110911, Colombia, +57 601 5082210
On top of a hotel, with amazing views. Their food is incredibly fresh, and the ambiance is top of its game. Strong drinks, so be warned.
Azahar Café 93
13-91 Calle 93b, Bogotá, DC 110221, Colombia
Everyone knows about Colombia and how good their coffee is. Azahar is where you're served by baristas at a spacious cafe in the Parque de la 93 area after choosing from an array of Colombian beans and brewing methods. A cup of their premium coffee is around .60 cents.
Les Amis Bizcocheria
10a-18 Calle 70a, Bogotá, Bogotá 110231, Colombia
Les Amis Bizcochería feels more like a friend's home than a bakery. The smell of fresh medialunas (Argentinian sweet croissants) wafts down the stairway before you even enter. Inside, a large table displays pastries, cakes, and breads on cute vintage plates. Ideal for breakfast, dessert, or sipping afternoon tea with whatever just came out of the oven.
El Bandido Bistro
7-12 Calle 79b, Bogotá, Cundinamarca 110221, Colombia
Bandido nights are well known in this town. The management has a knack for booking jazz bands and cover acts nightly, which draw the crowds. The French bistro fare is completely serviceable, but you're really here for the scene. Within the restaurant is El Enano, a smaller bar serving craft cocktails.
Zipaquirá
# 83-47 Carrera 13, Bogotá, Bogotá 110221, Colombia
Explore two highlights outside from Bogota, Zipaquirá Salt Cathedral and Lake Guatavita, on this guided all-day tour, which includes roundtrip transport. In addition to exploring subterranean Zipaquirá Salt Cathedral, enjoy a visit to the city of Zipaquirá for a traditional Colombian lunch. At Lake Guatavita, a crater lake known for its green color, learn about its connection to the legend of El Dorado.