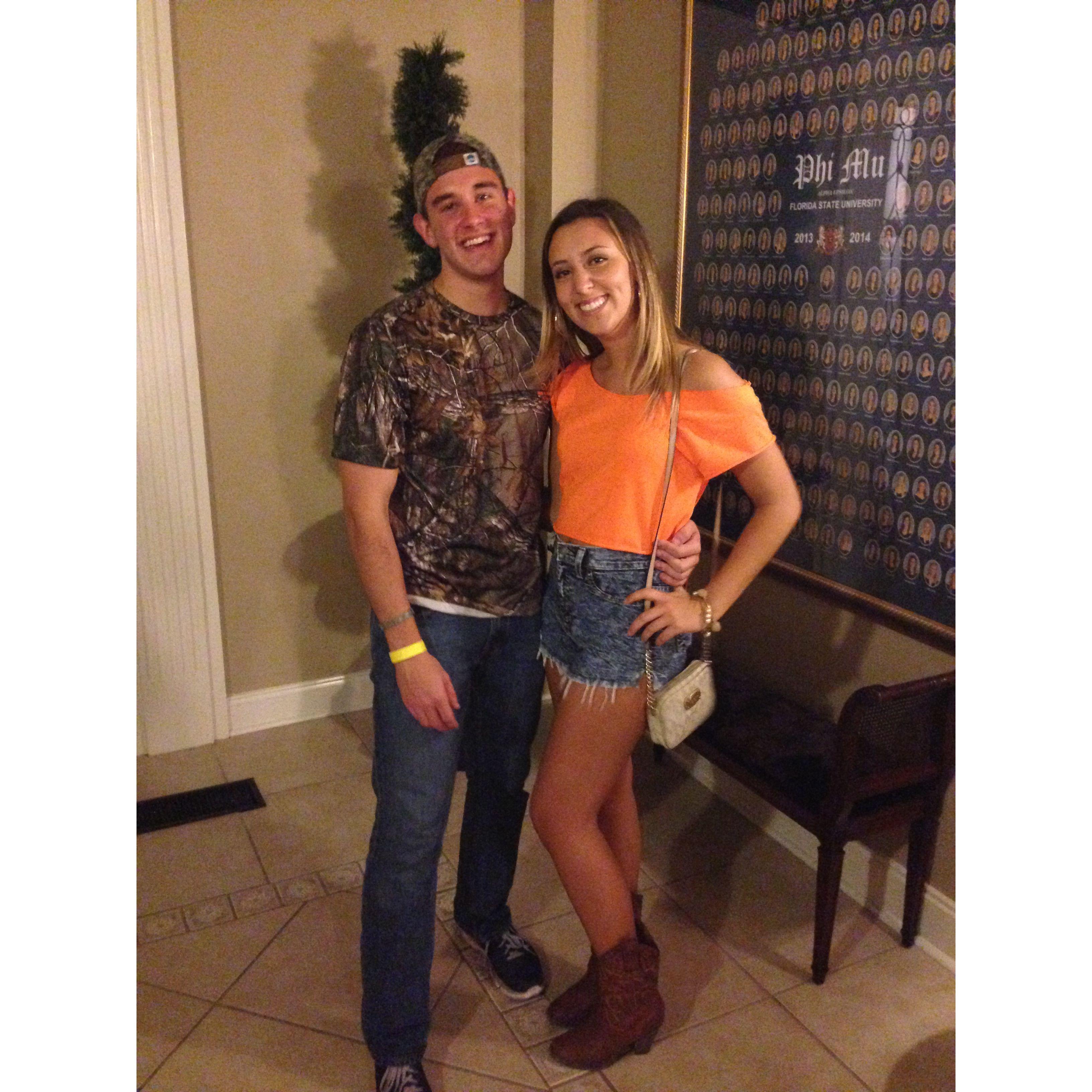 The first photo ever taken of Jordan and Fred together. This was taken on their first "official" date together at Jordan's sorority date function, themed "Duck Calls and Overalls."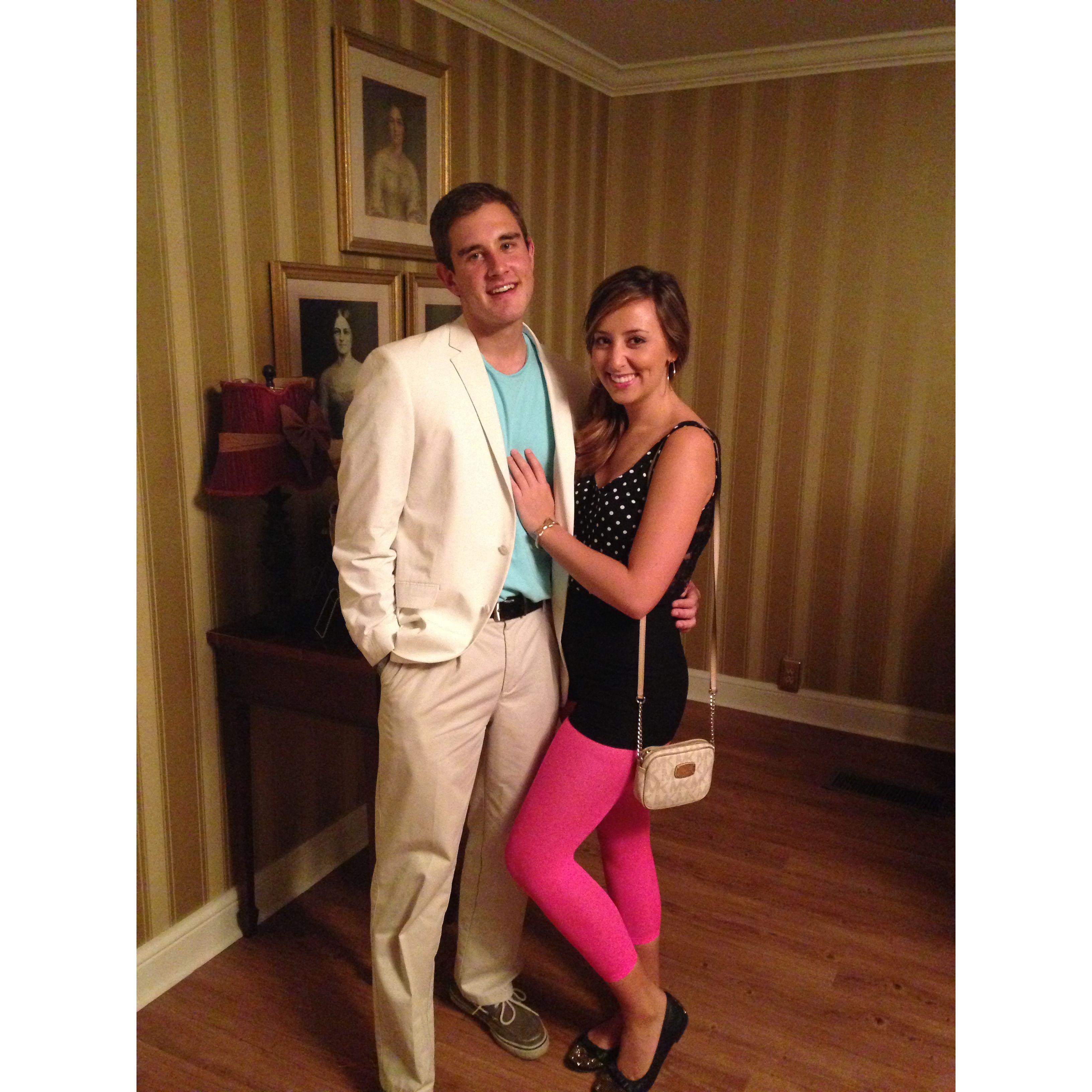 After they hit it off at Jordan's date function, Jordan asks Fred to accompany her yet again, a few weeks later, on another date function with an '80's theme.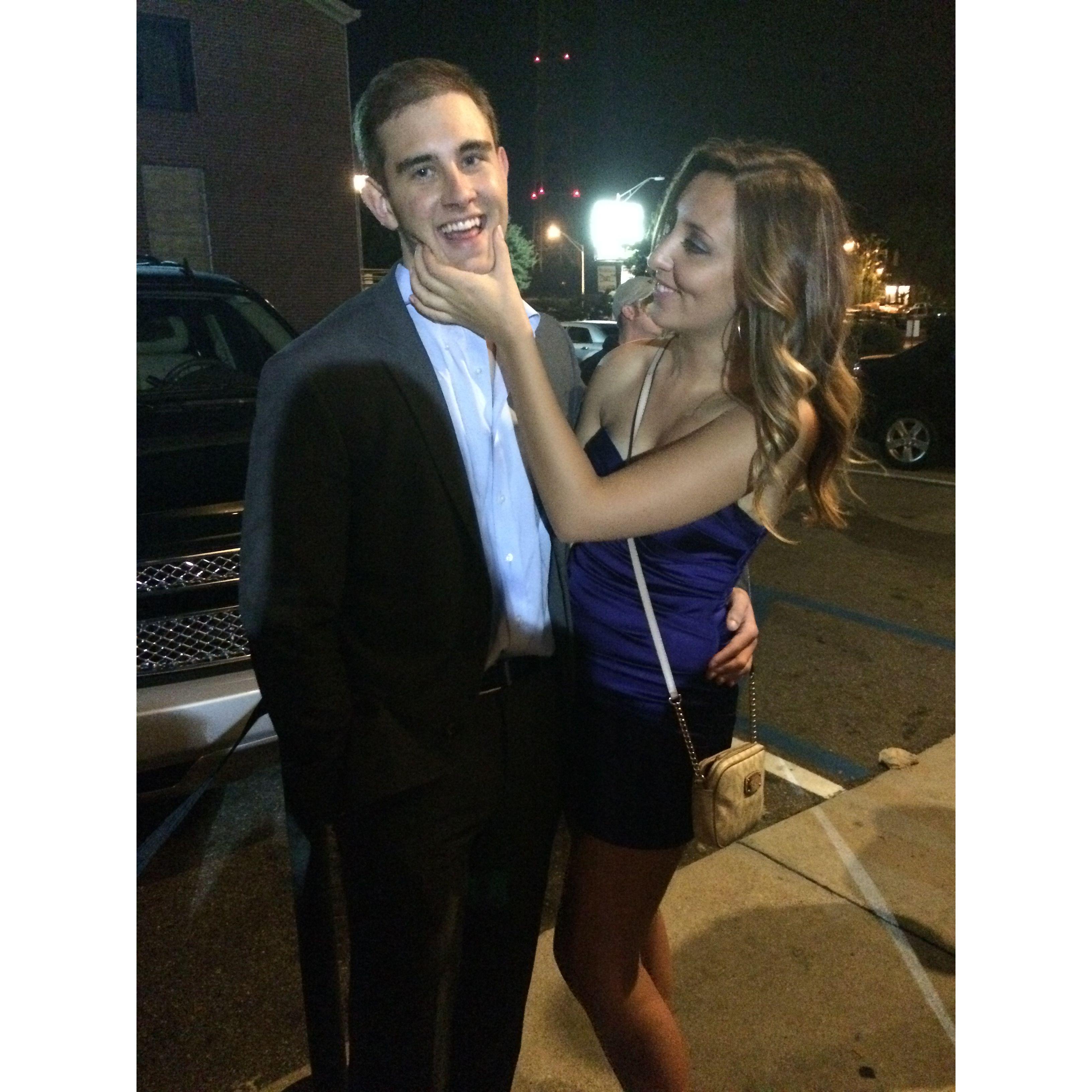 College semi-formal, circa 2014.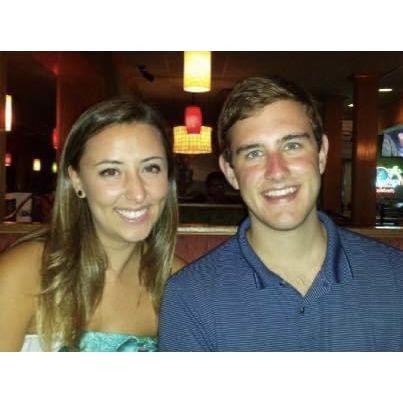 The night of Fred's 21st birthday, Jordan joined Fred and his parents in Cape Canaveral, Florida for a family vacation. Fred enjoys his first legal beverage out at dinner with Jordan and his parents.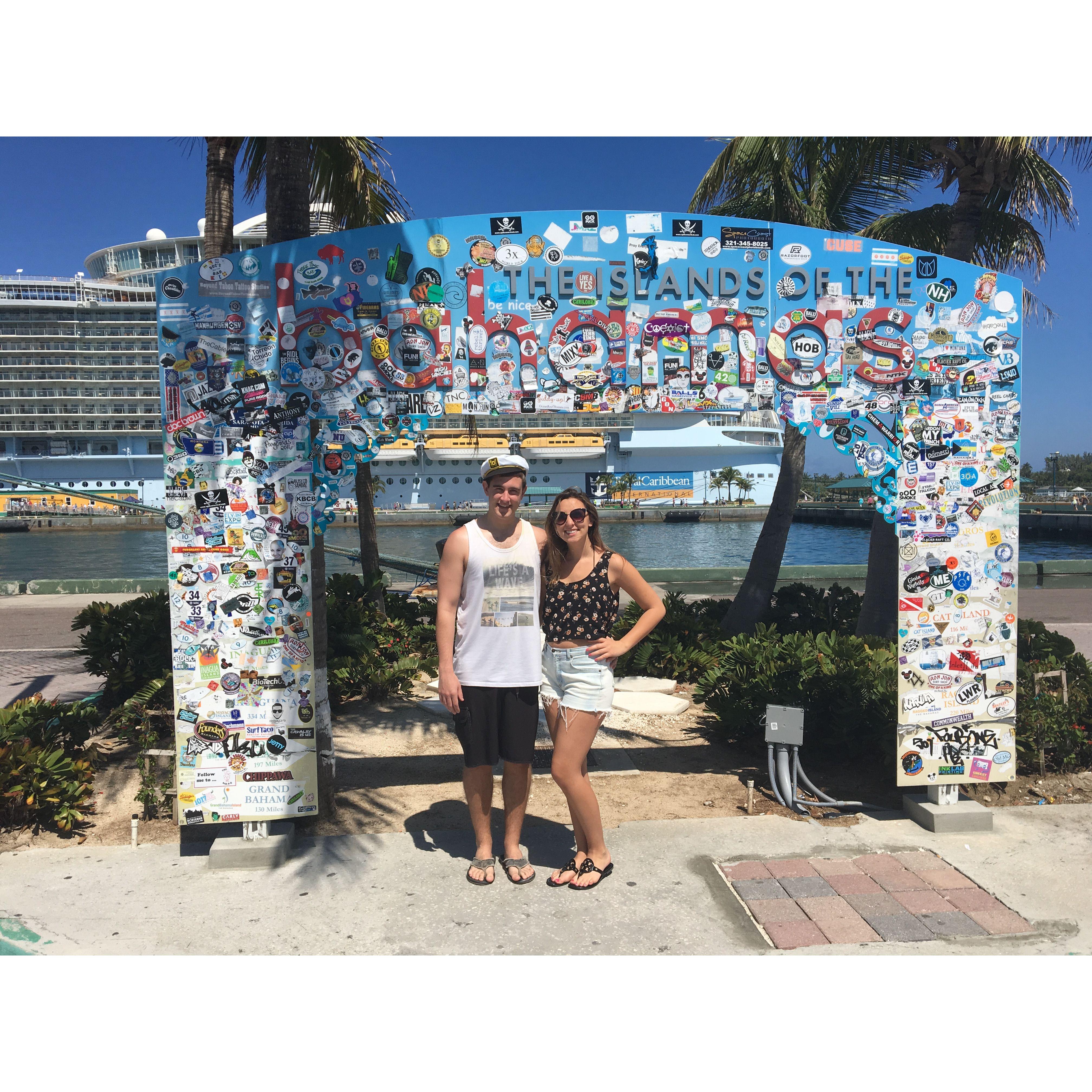 Jordan and Fred's first vacation together was on a Royal Caribbean cruise to the Bahamas in Spring of 2016!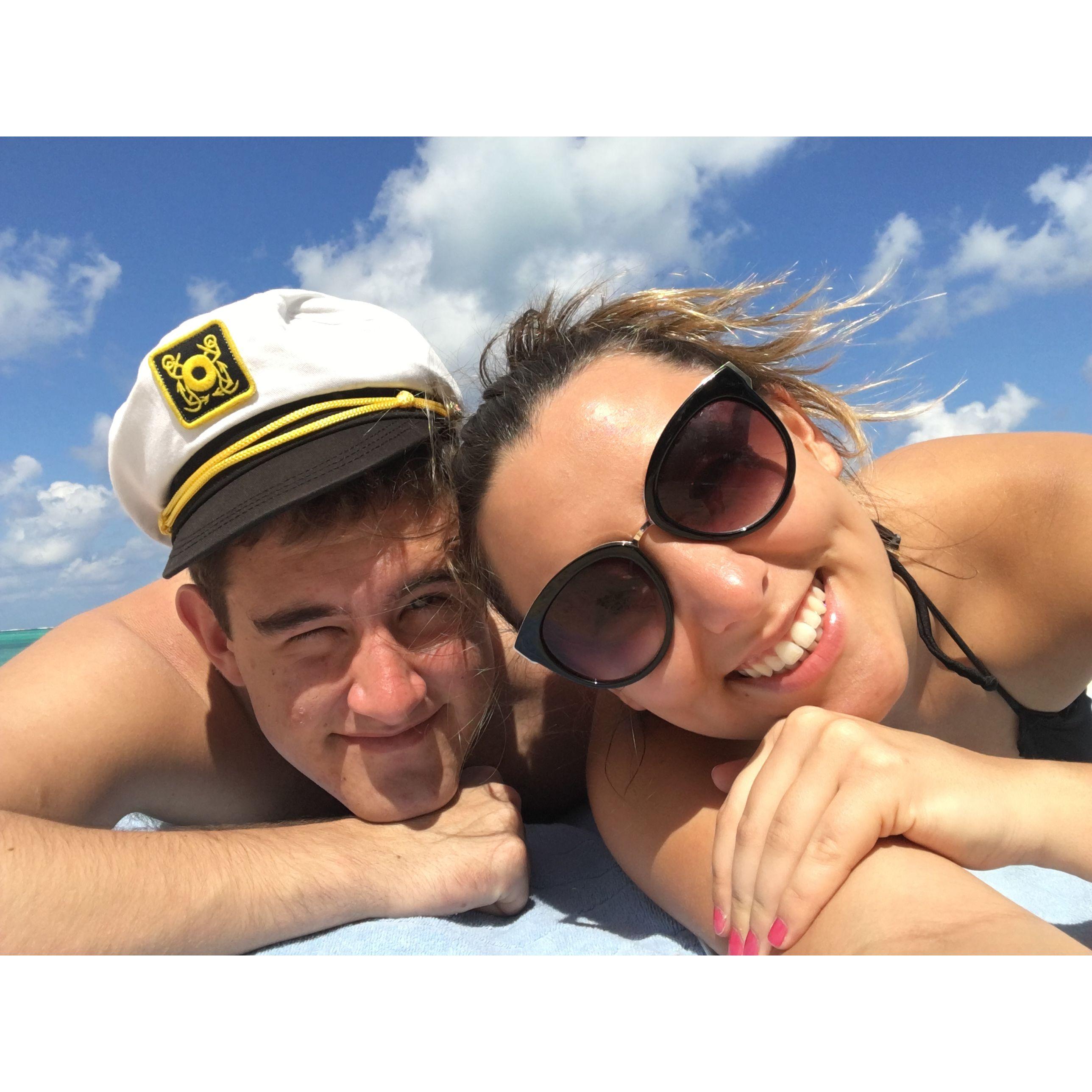 We enjoyed a beach day in Nassau, Bahamas during our college Spring Break. Jordan continues to refer to Fred as the Popeye to her Olive <3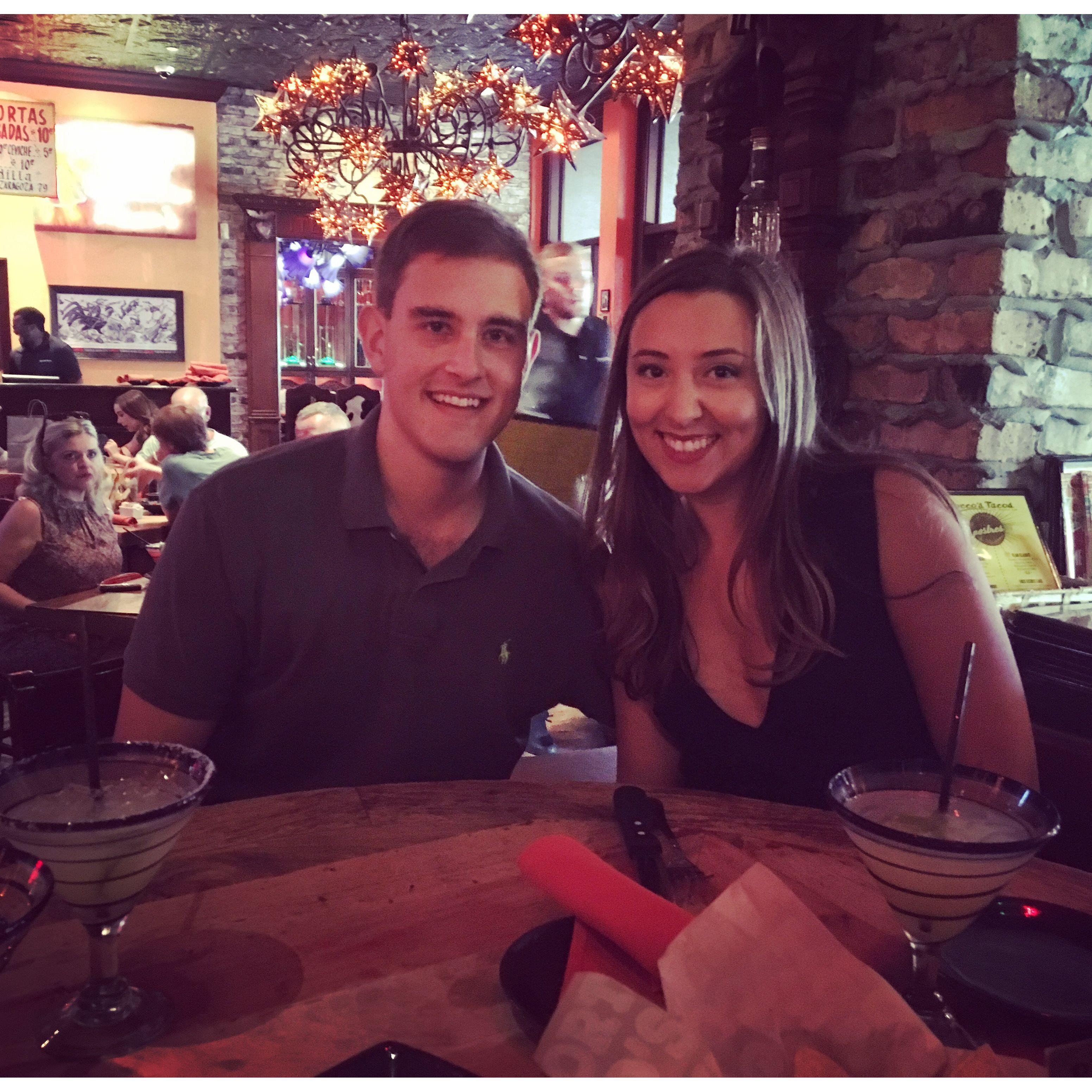 The night of Jordan and Fred's first concert together (Seal Concert). Dinner at Rocco's Tacos with Jordans Parents prior to the concert.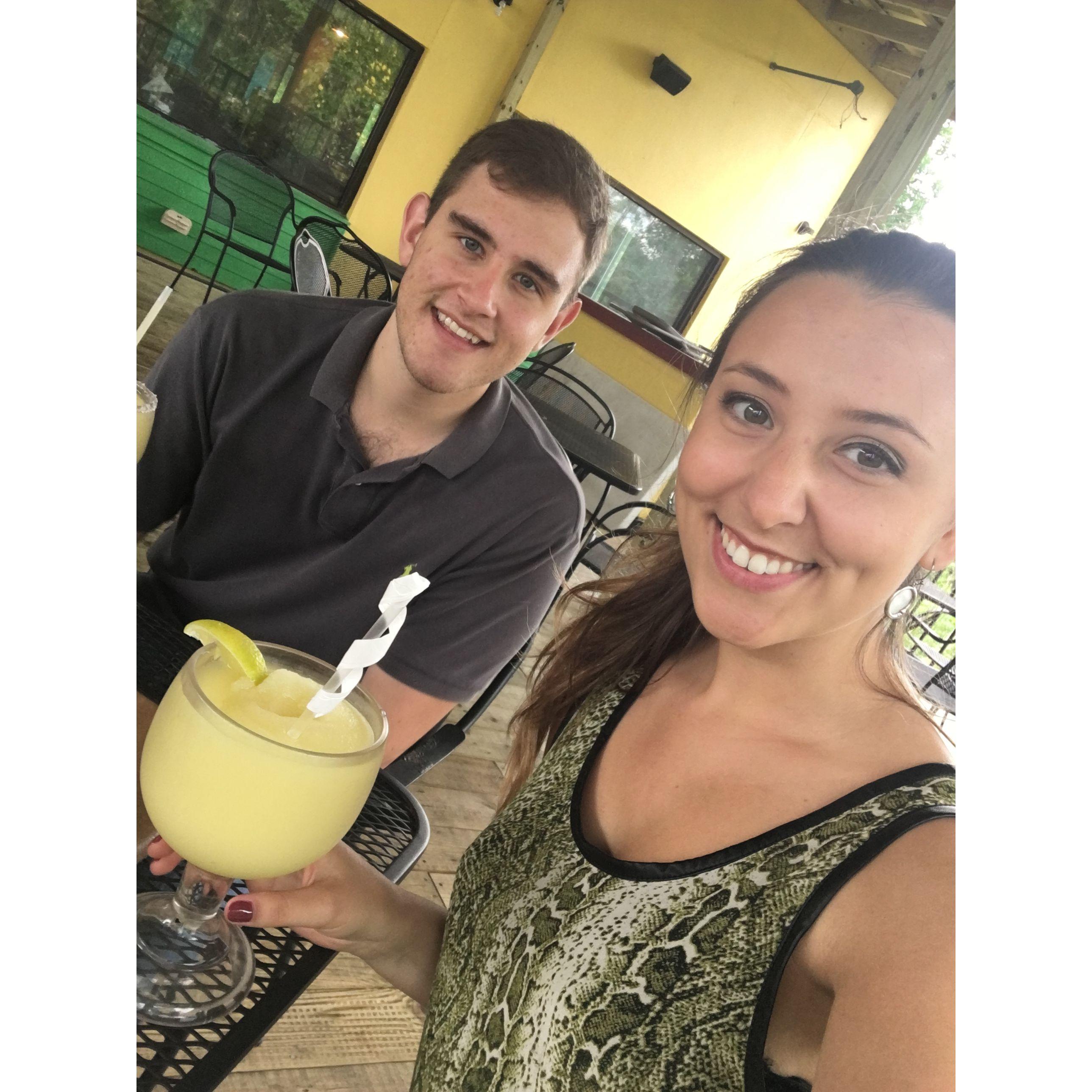 Jordan enjoys her first legal drink (Maragrita) with Fred on her 21st birthday in Tallahassee.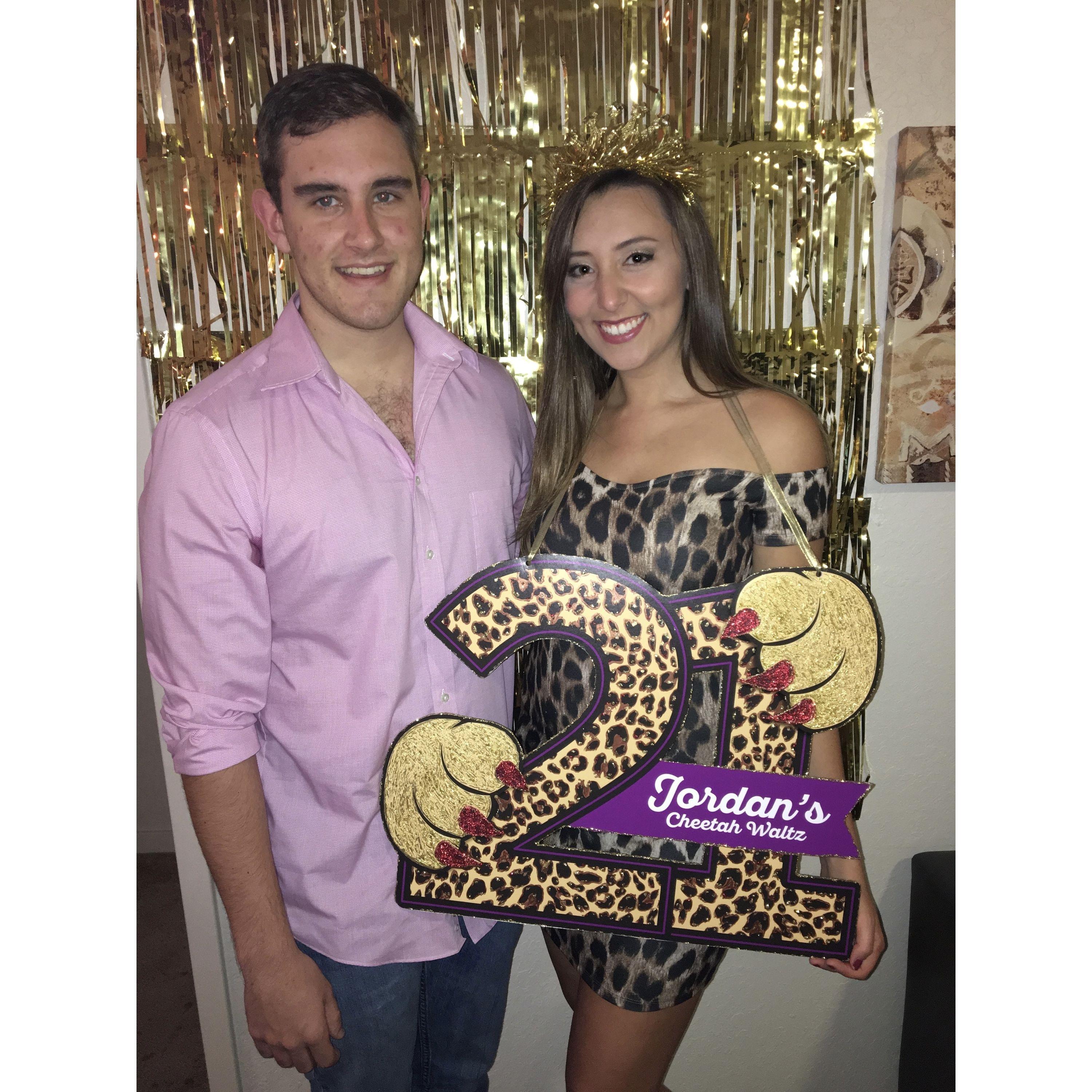 Jordan's 21st Birthday!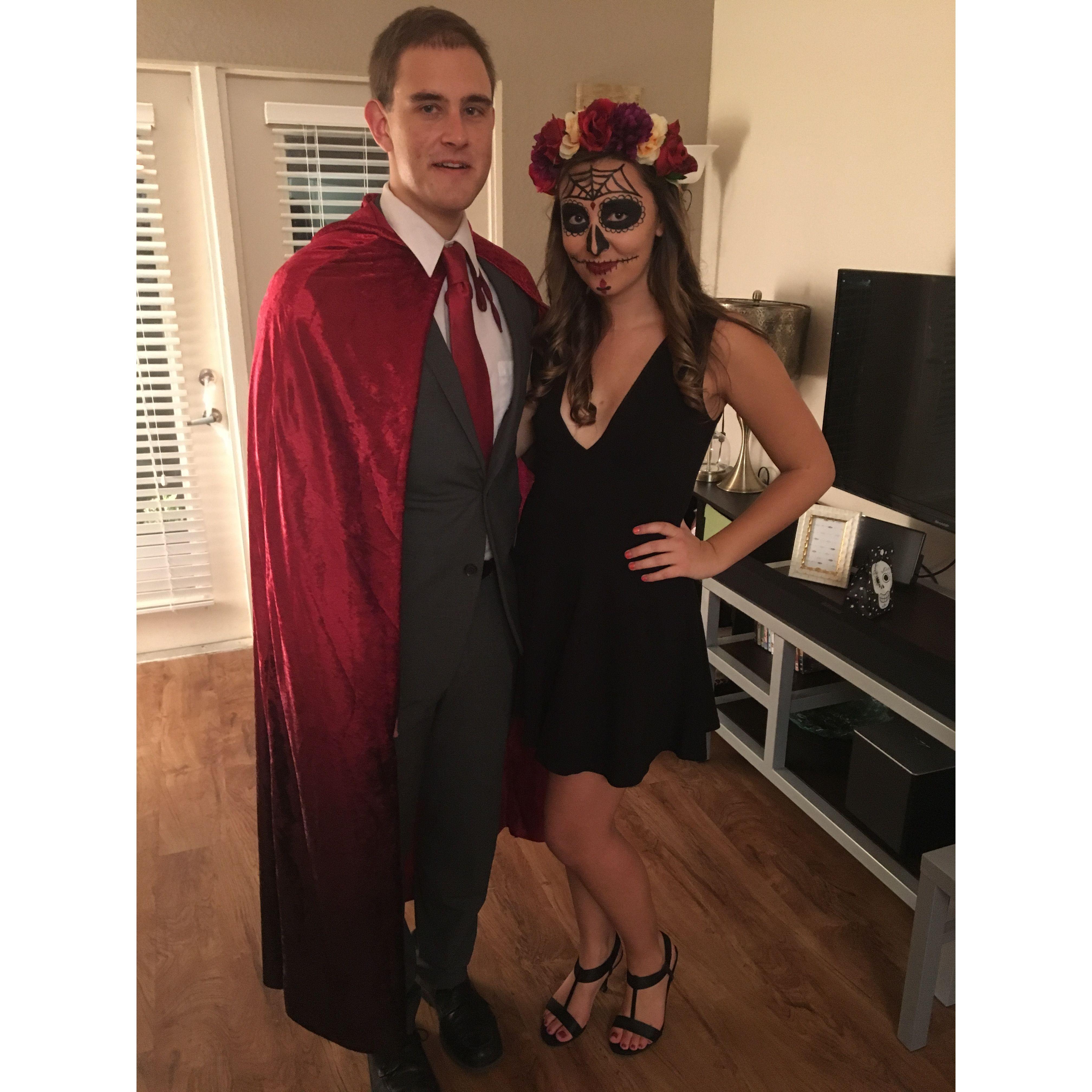 Fred and Jordan never pass up an opportunity to dress up in costume: Halloween 2015!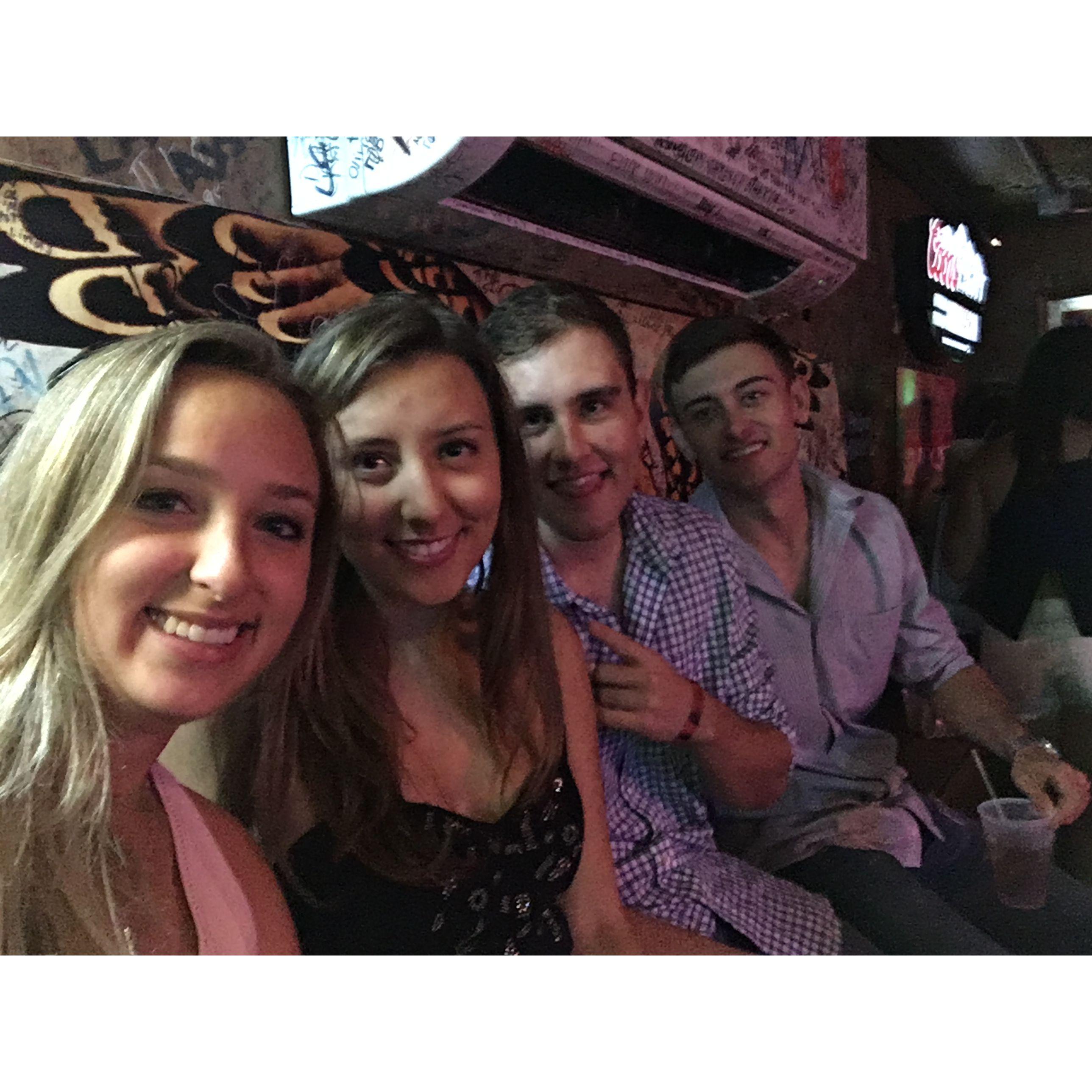 Meet the siblings! Jordan's sister, Shannon and Fred's brother, Estiaan meet for the fist time in Tallahassee!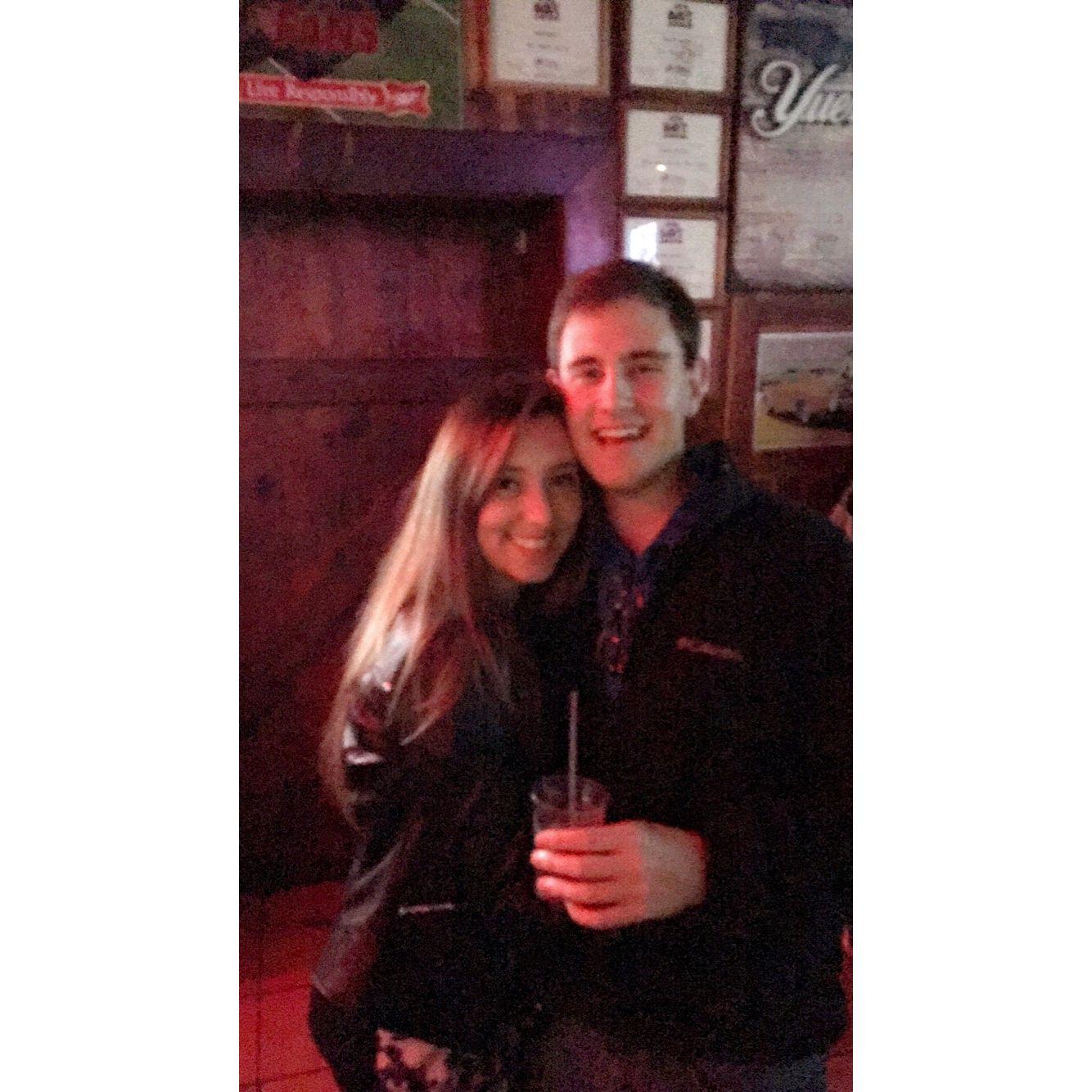 Jordan and Fred enjoy a night out in Tallahassee, not long before graduation!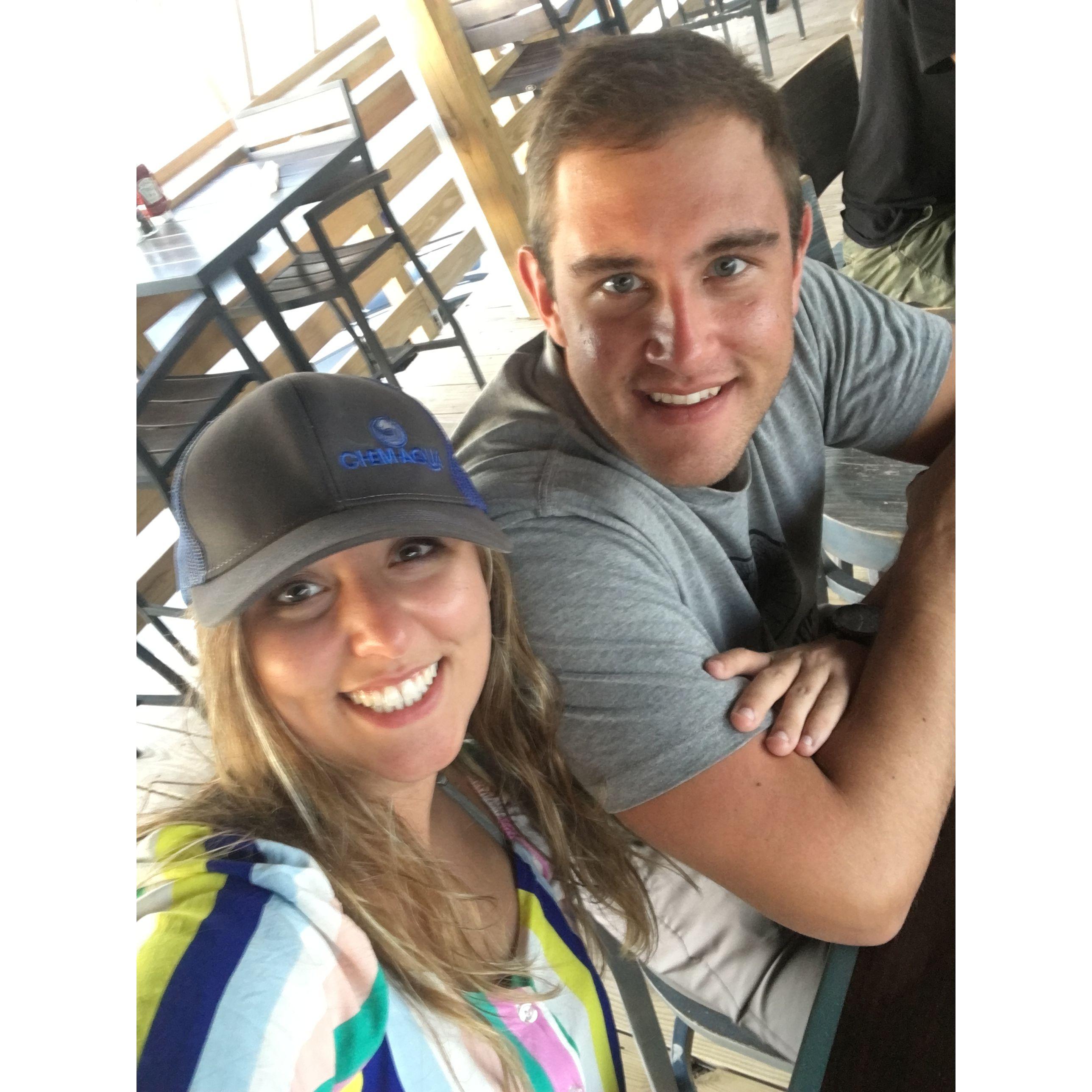 Fred and Jordan reconnected in 2019. The two enjoy a weekend getaway in the Florida Keys.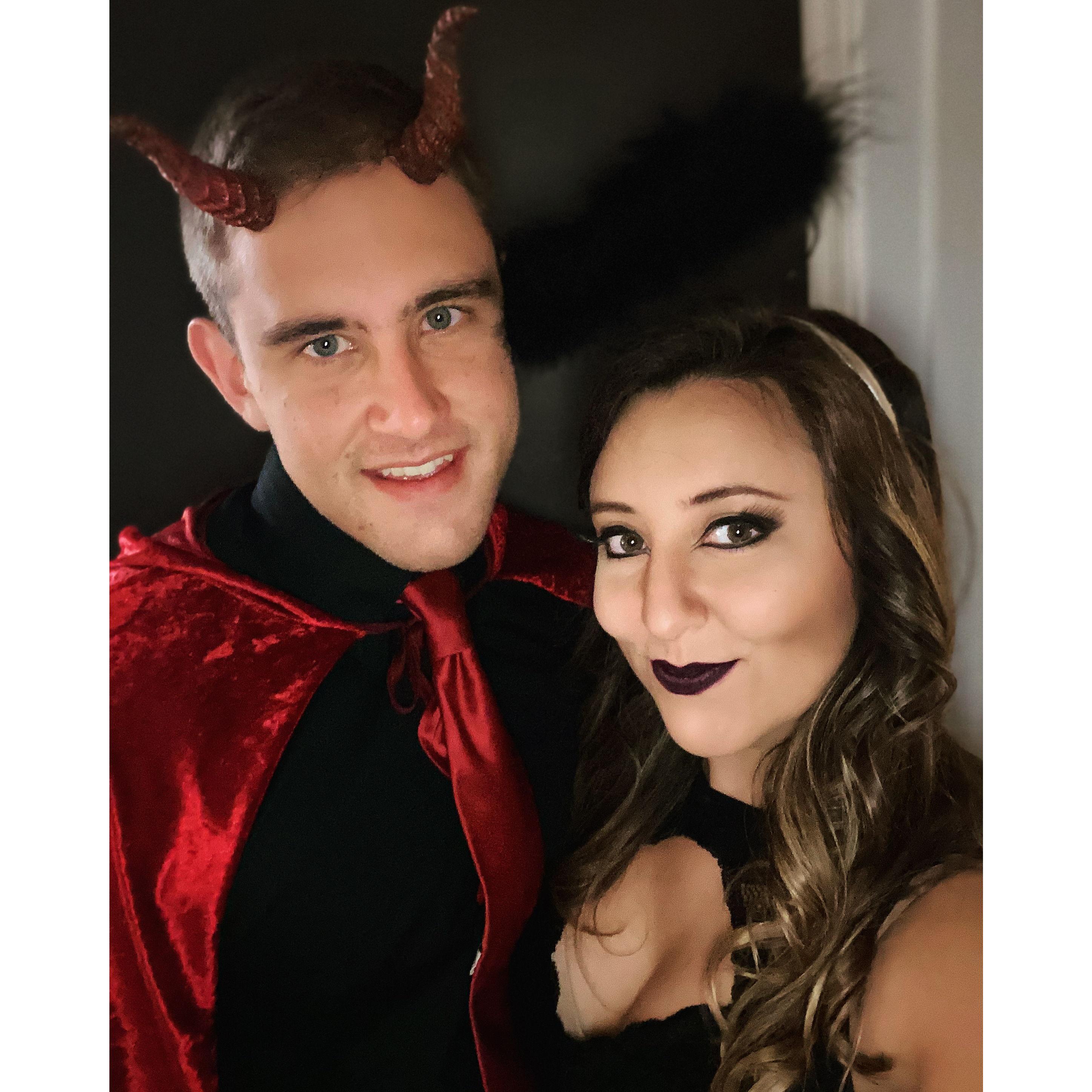 Fred and Jordan never pass up an opportunity to dress up together for Halloween. Circa 2019, the two dress up as The Devil (Fred) and his Fallen Angel (Jordan).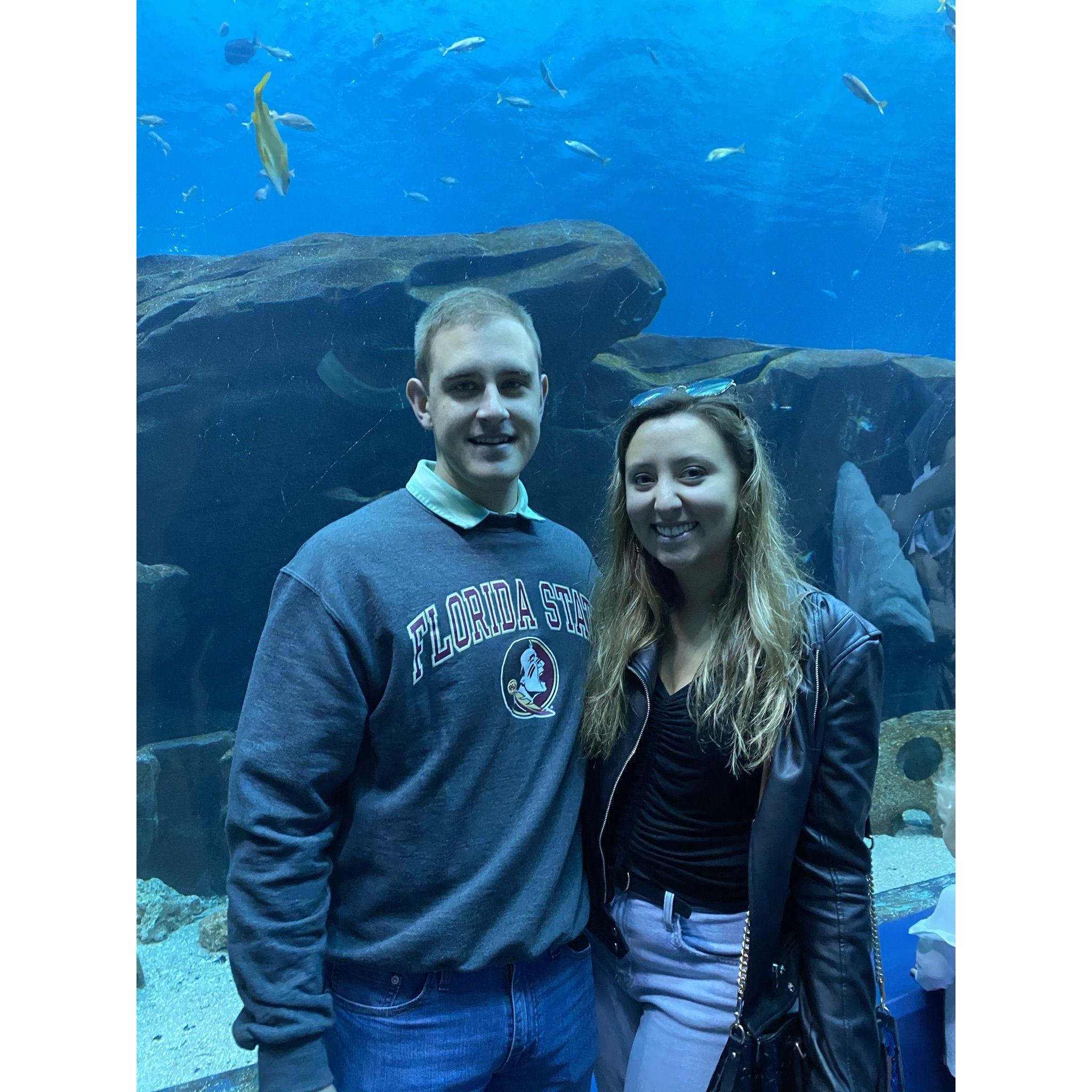 Jordan visits Fred in Atlanta in January of 2020. The two take a trip to the Georgia Aquarium!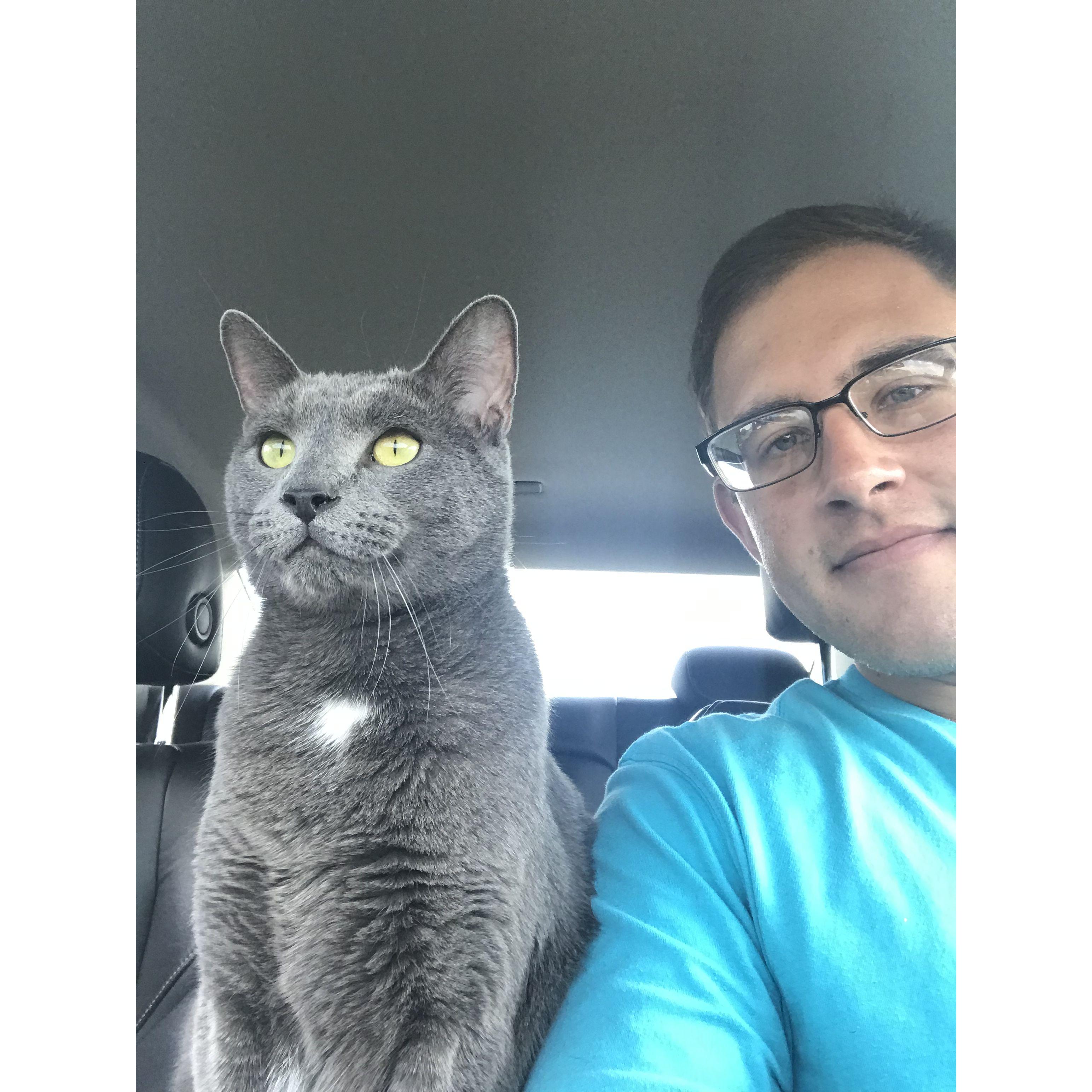 In March of 2020, Fred and Romeo make the journey from Atlanta to Miami to "quarantine" with Jordan in her Miami apartment after the outbreak of COVID.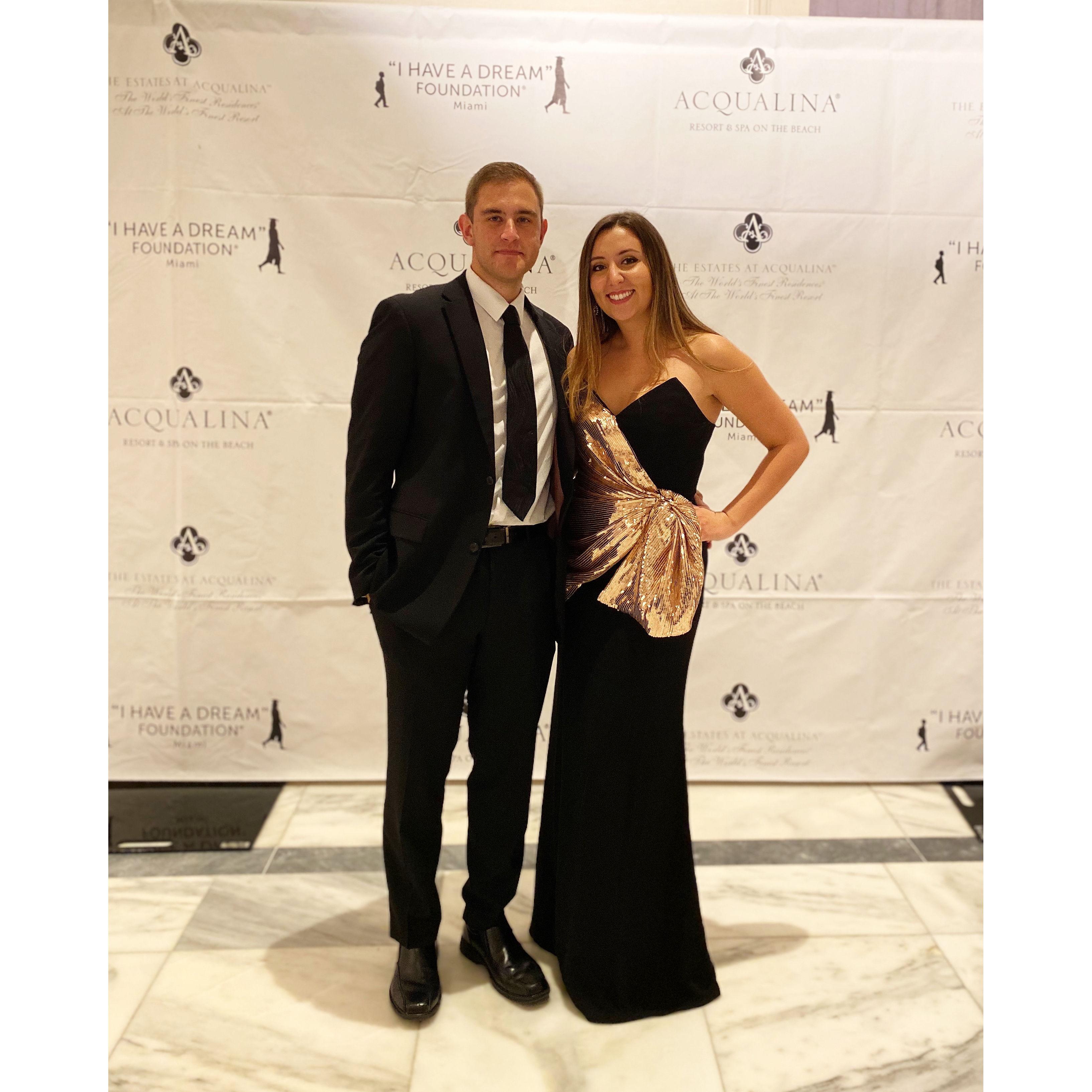 Jordan invites Fred as her date to her company Gala event in December of 2019. The two clean up nice!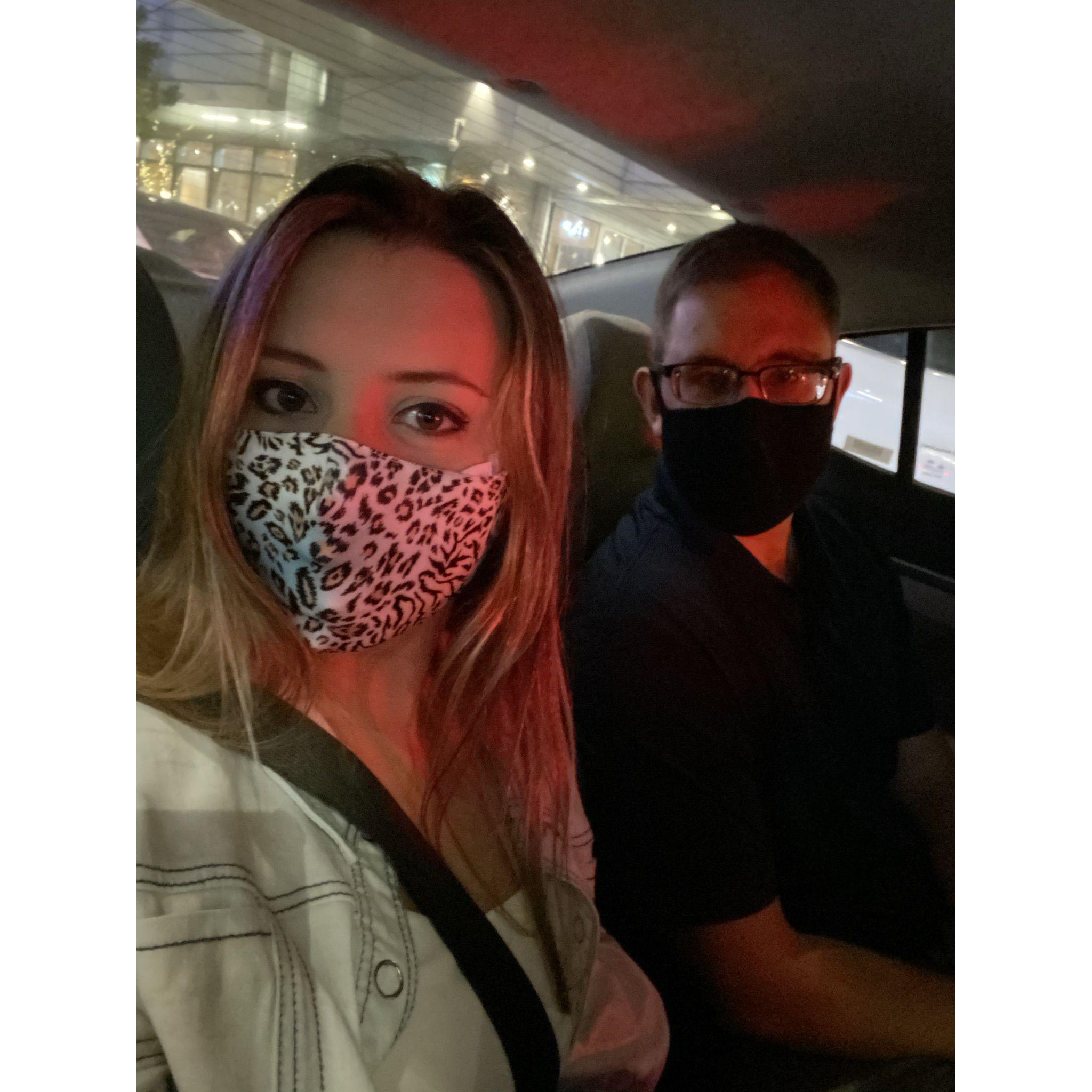 Jordan and Fred take a safe date night out during the COVID pandemic.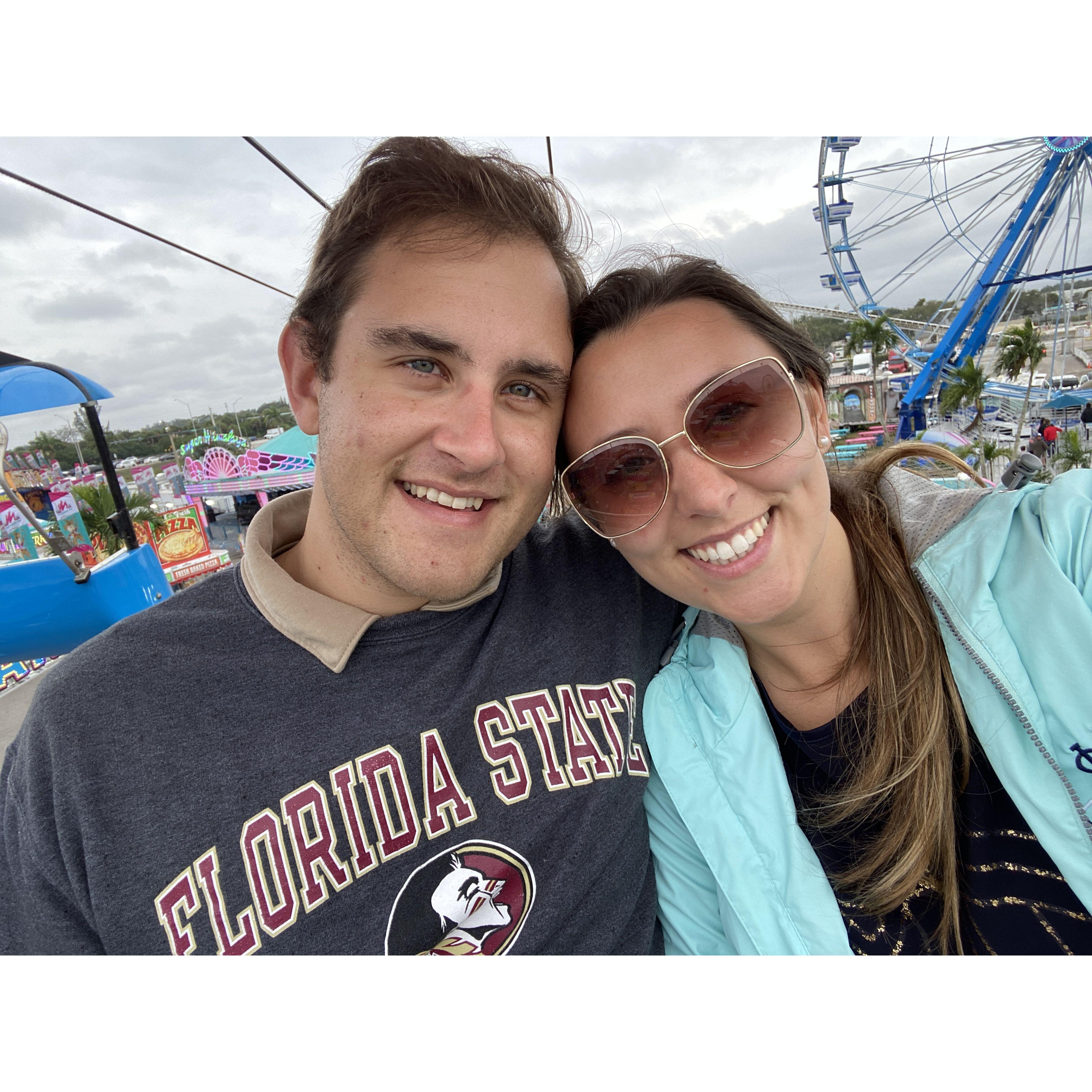 Despite Fred's strong dislike of amusement parks and carnivals, Fred takes Jordan to the South Florida Fair! The two share a kiss at the top of the Ferris wheel!
Jordan and Fred get the keys to their first apartment together in Brickell, Miami! An apartment they end up living in for two years together.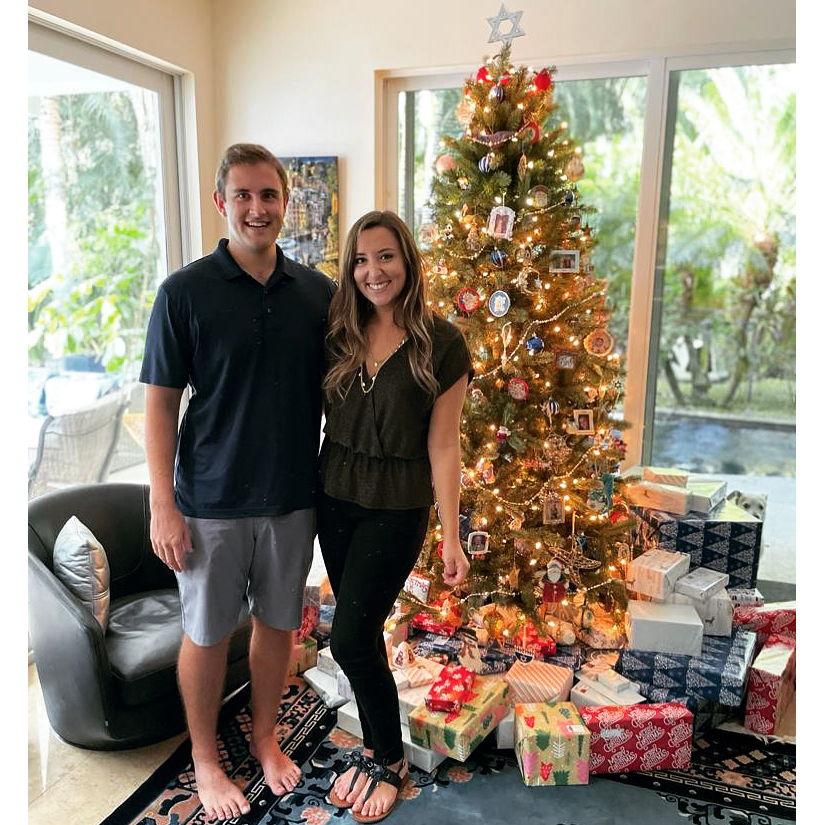 Jordan and Fred celebrate Christmas together at Jordan's parents house.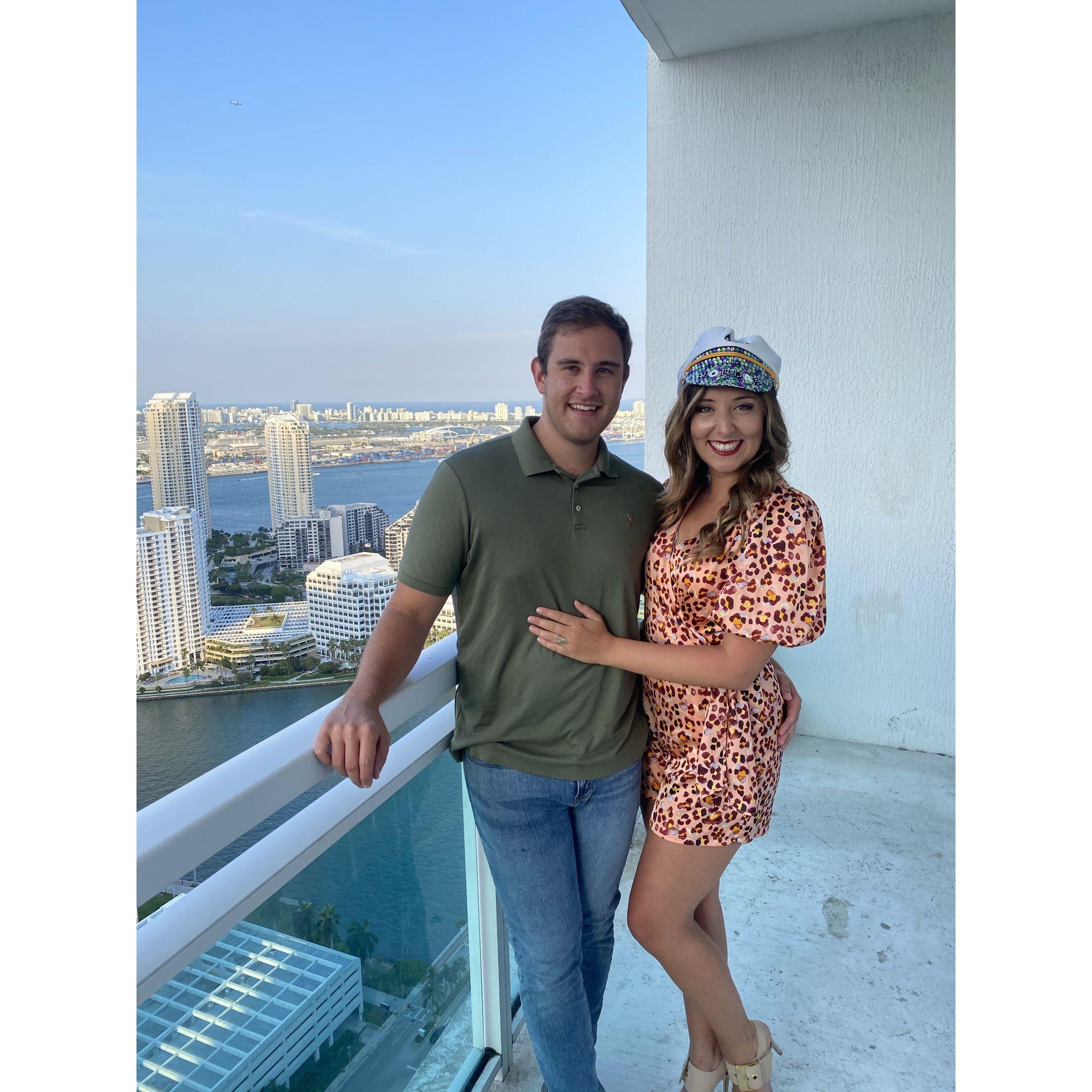 Jordan's 26th Birthday, together in their new home in Brickell, Miami.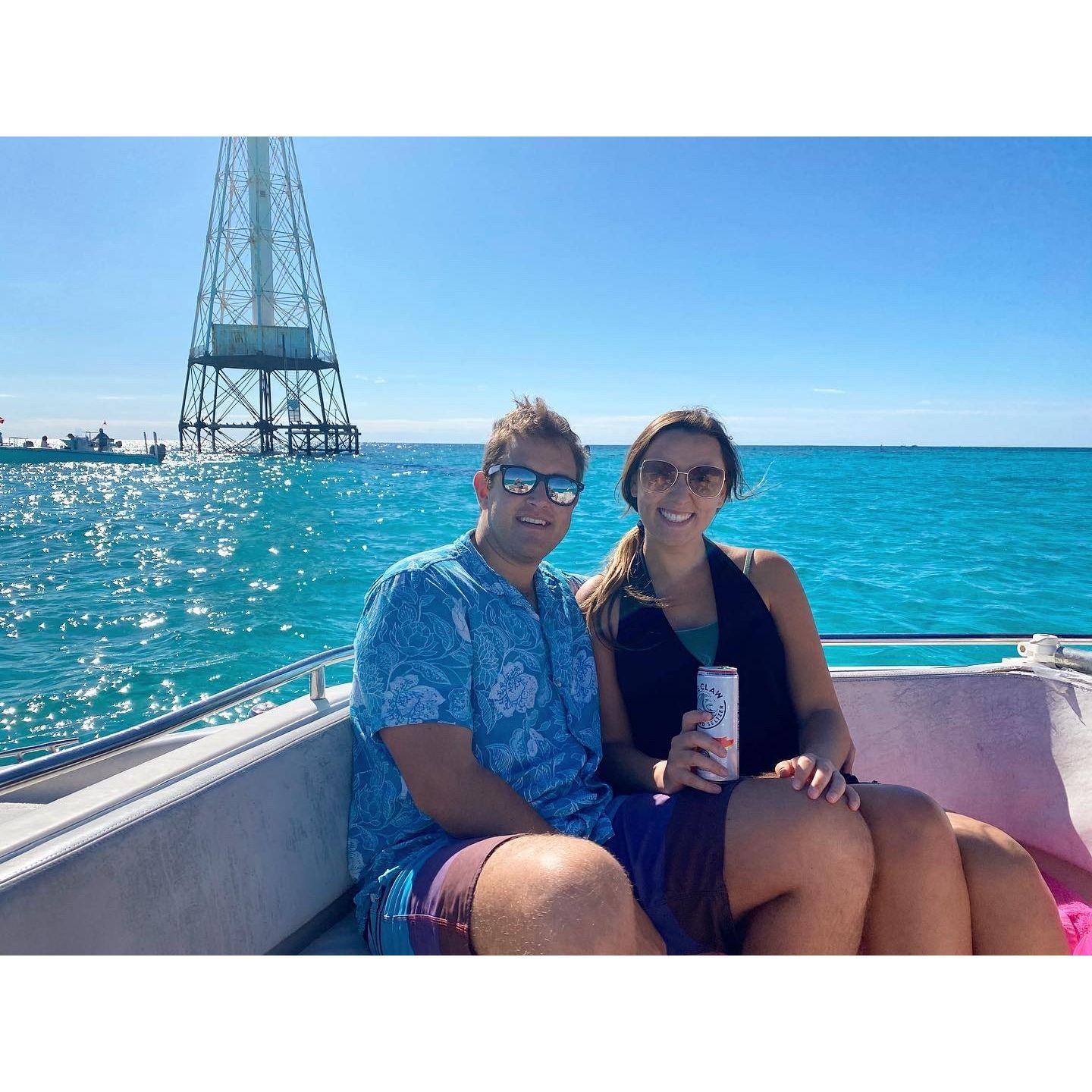 One of Fred and Jordan's favorite places to visit: Alligator Reef in Islamorada, FL! They enjoy snorkeling, floating and listening to their favorite Kenny Chesney songs.
One of Jordan and Fred's favorite memories together - a Keith Urban concert in West Palm Beach, FL!
The couple enjoyed a day of kayaking together with Fred's parents in Sarasota, FL!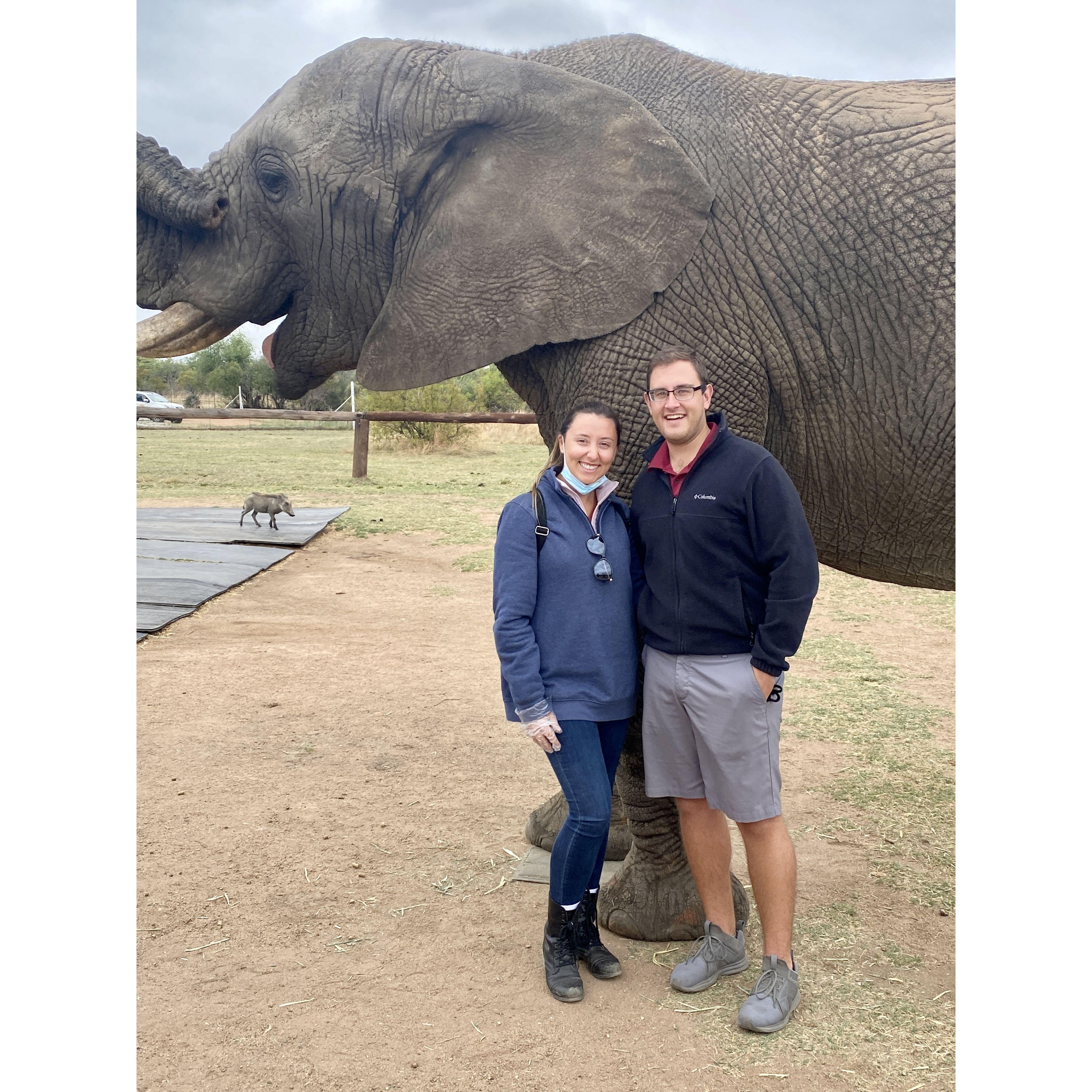 Jordan travels with Fred and his family back to his homeland of South Africa! She is blown away by the size of the African Elephants!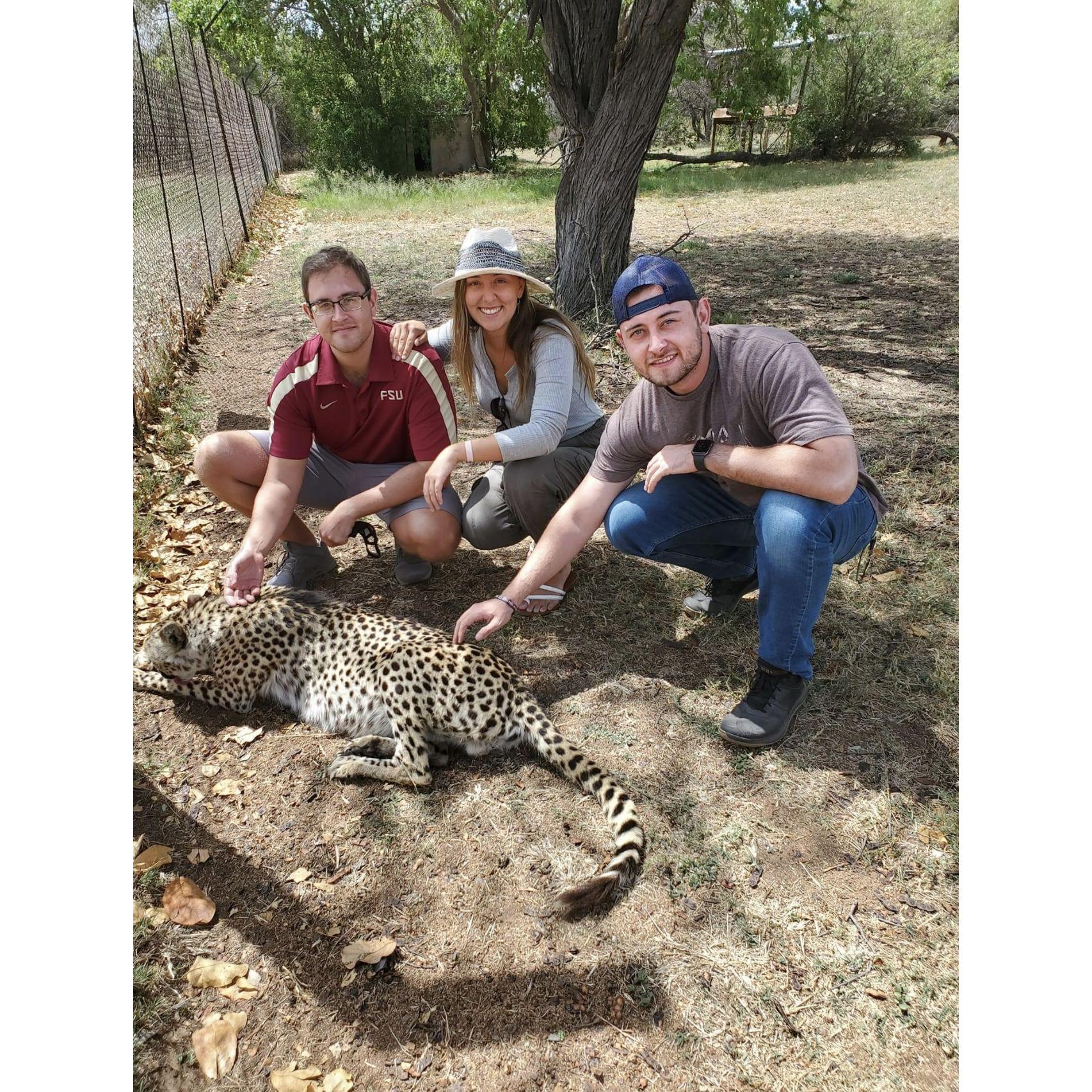 During their trip to South Africa, Jordan, Fred and Fred's brother, Estiaan take an exciting venture into a cheetah sanctuary!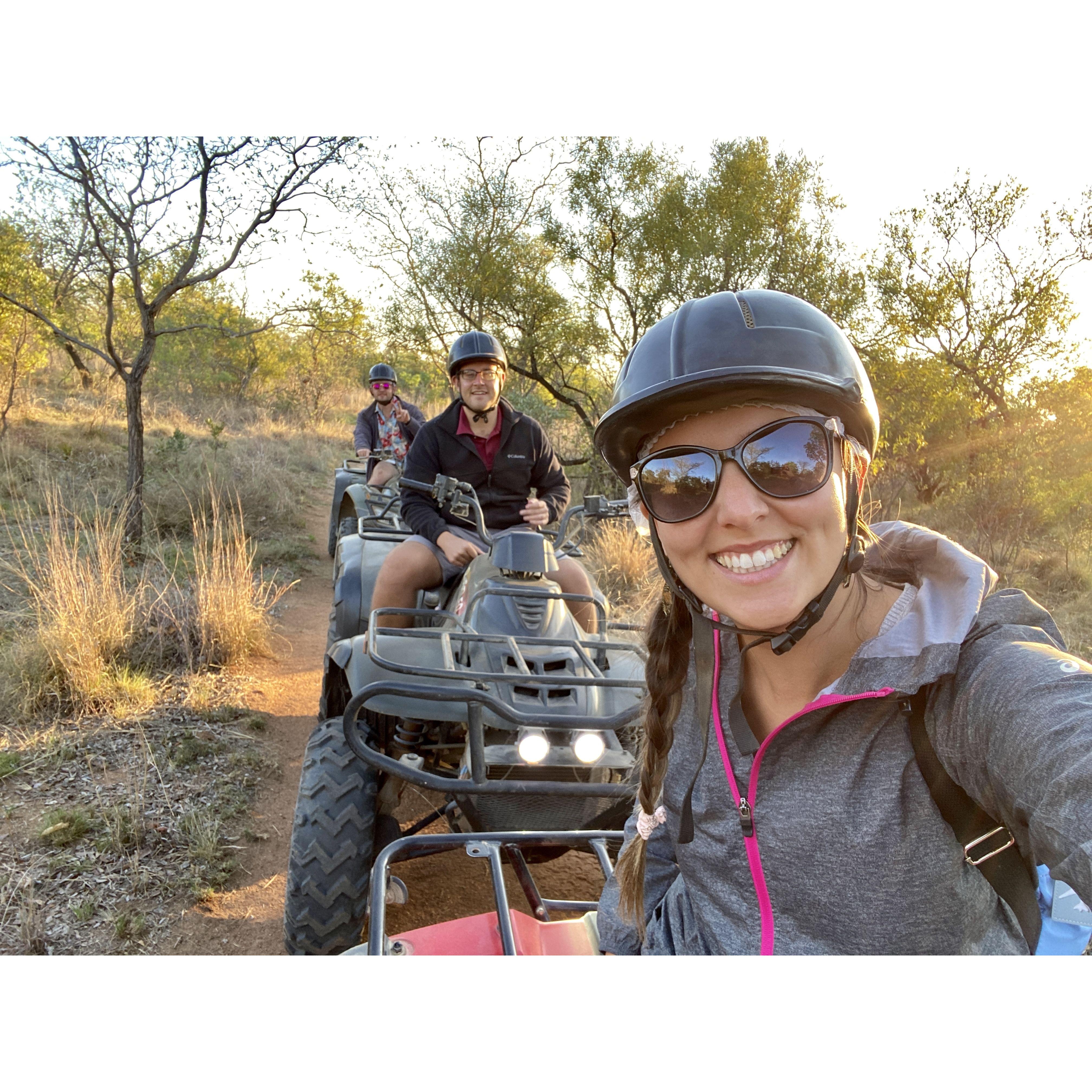 Jordan, Fred and Estiaan, ride ATV's into the depths of the South African Safari. They encounter, Zebras, Hippos, Buffalo and many more exciting African animals!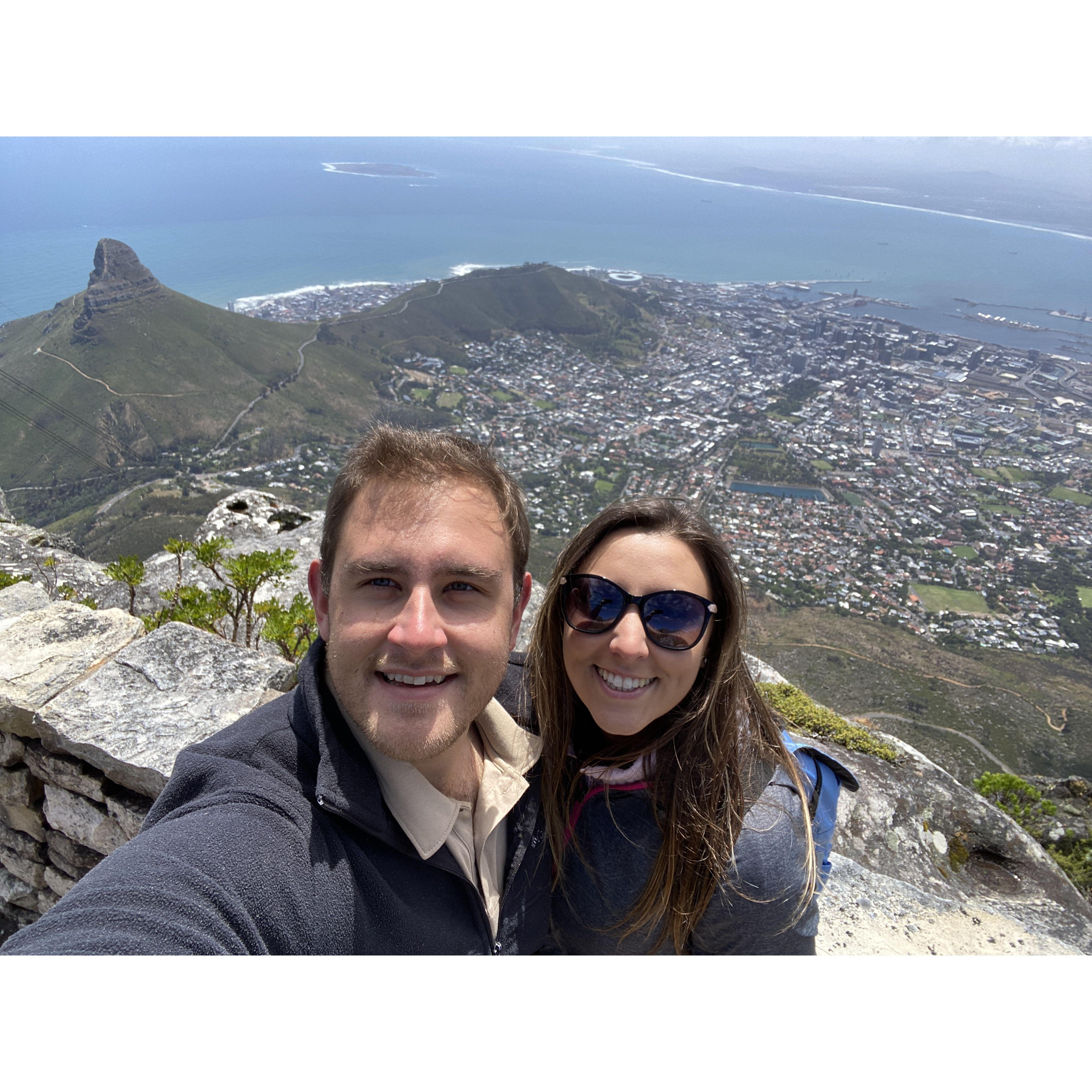 The couple made it to the top of Table Mountain in Cape Town, South Africa! They were lucky enough for the clouds to clear so they could see for miles and miles - a rare sight for most SA travelers!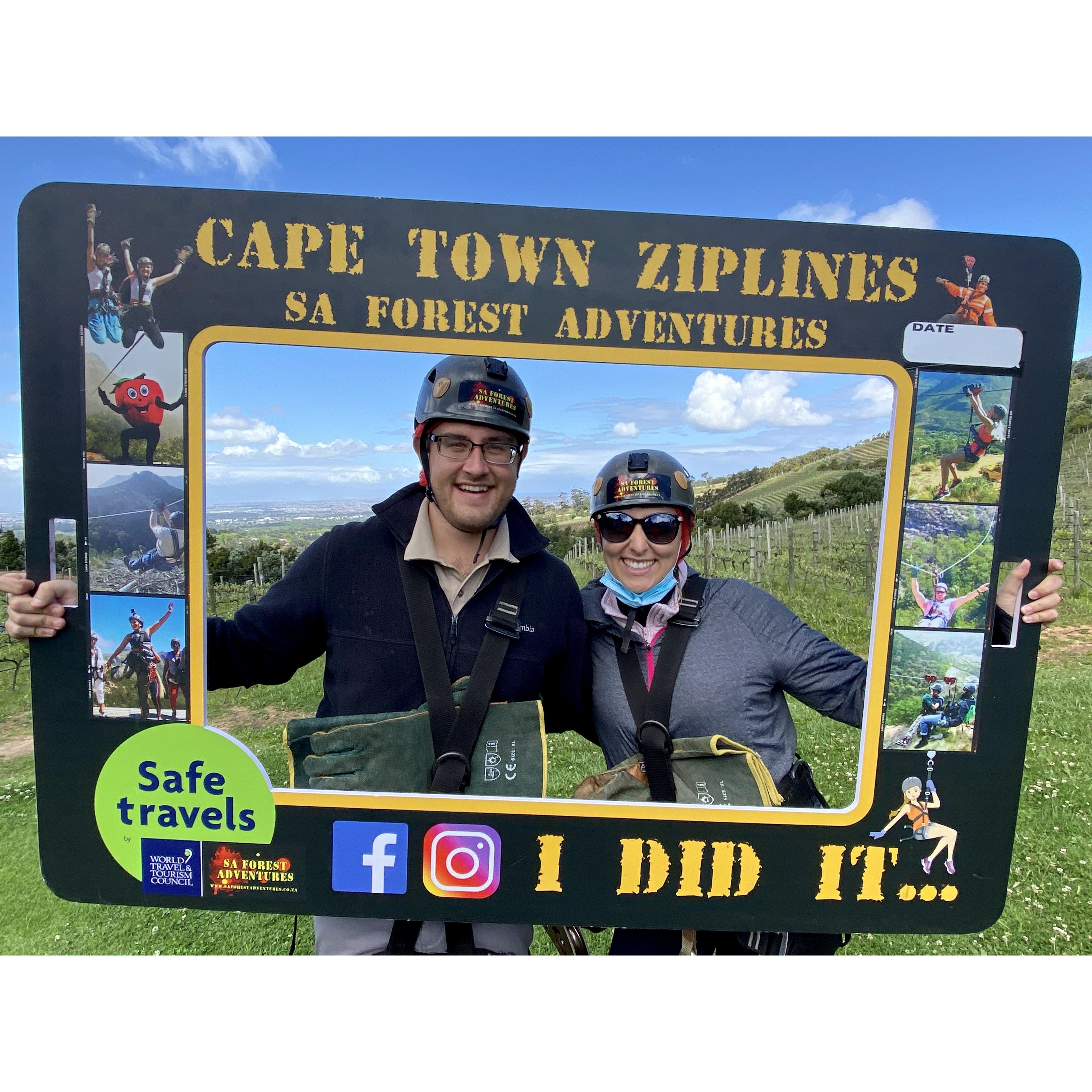 Fred and Jordan zip lined above some of the most beautiful Cape Town wineries!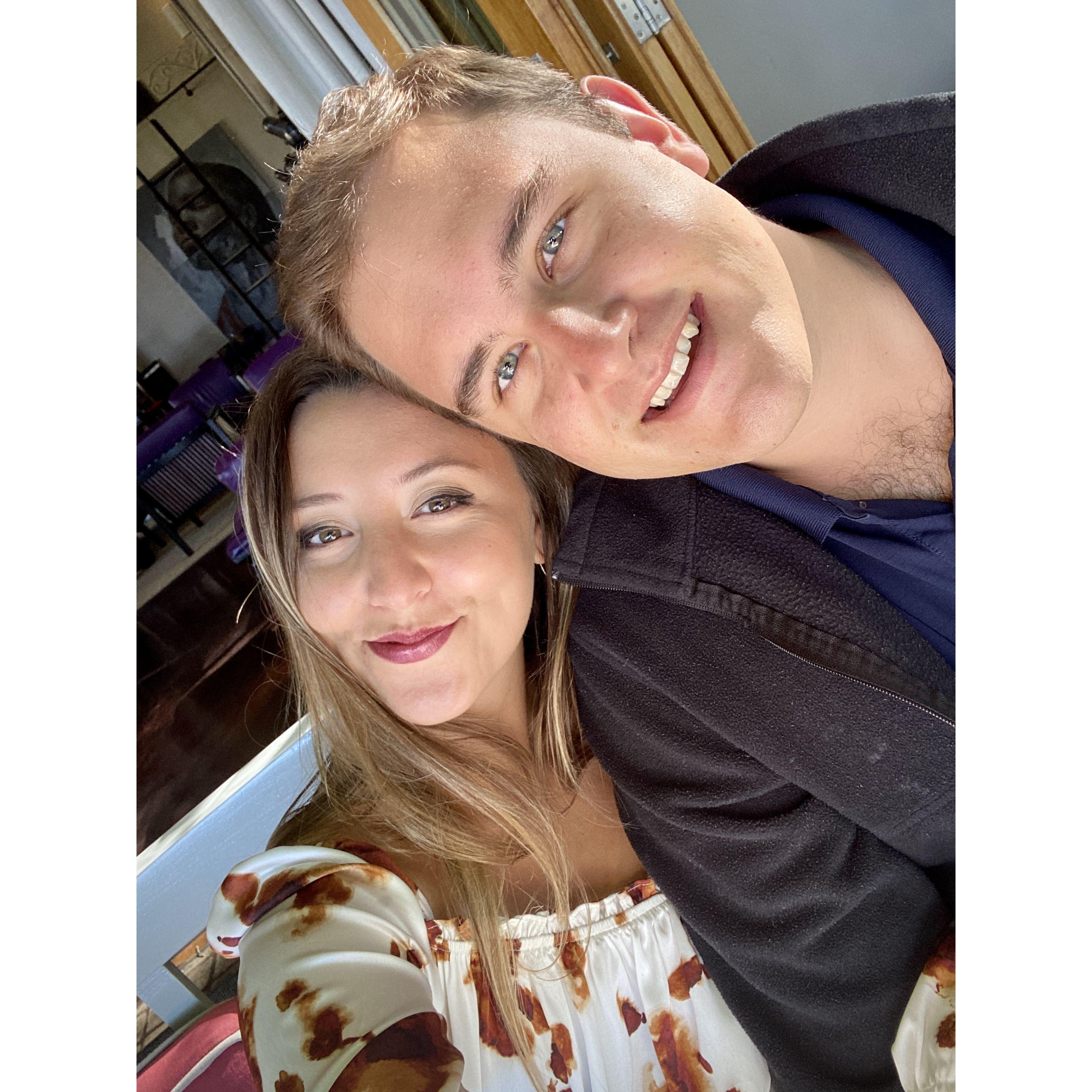 The couple enjoyed a wine tasting at their favorite South African winery, Delaire Graff Estate.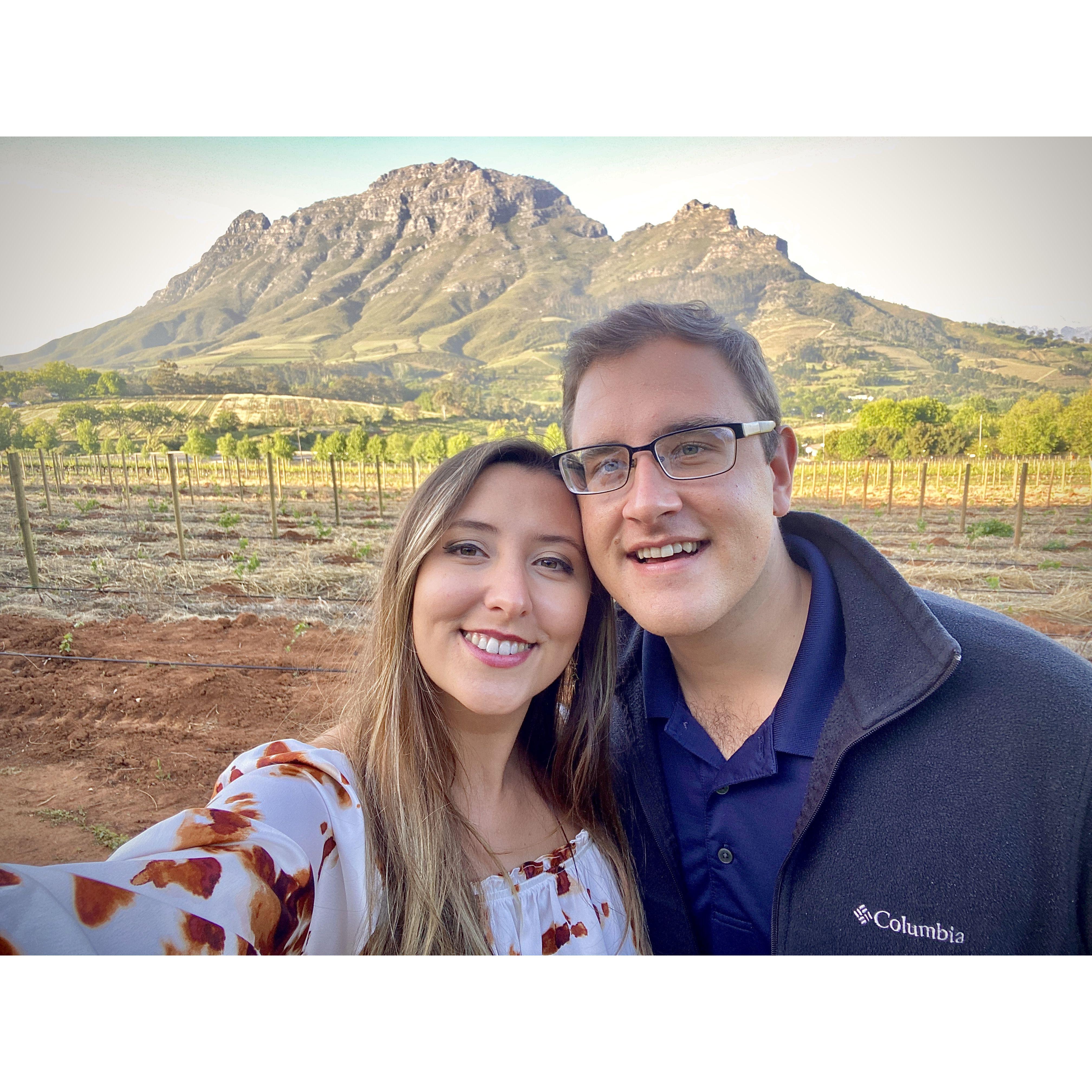 One of the best days Jordan and Fred have shared together - beautiful scenery, romance and delicious food and wine!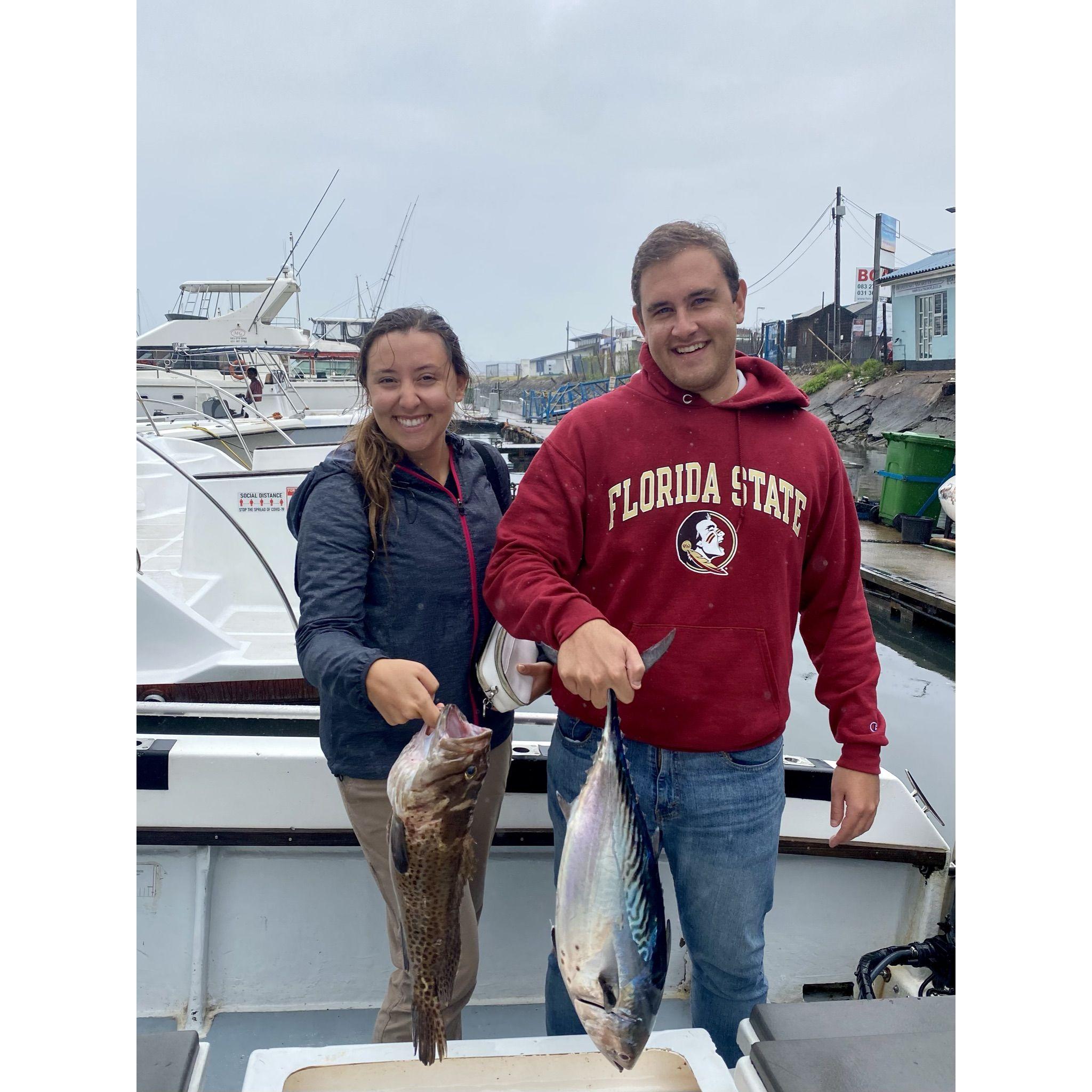 The couples first - but not last - deep sea fishing trip in Durban! Jordan caught a Grouper and Fred caught a Tuna! They brought home the fresh catch to Fred's family and enjoyed a seafood dinner that night!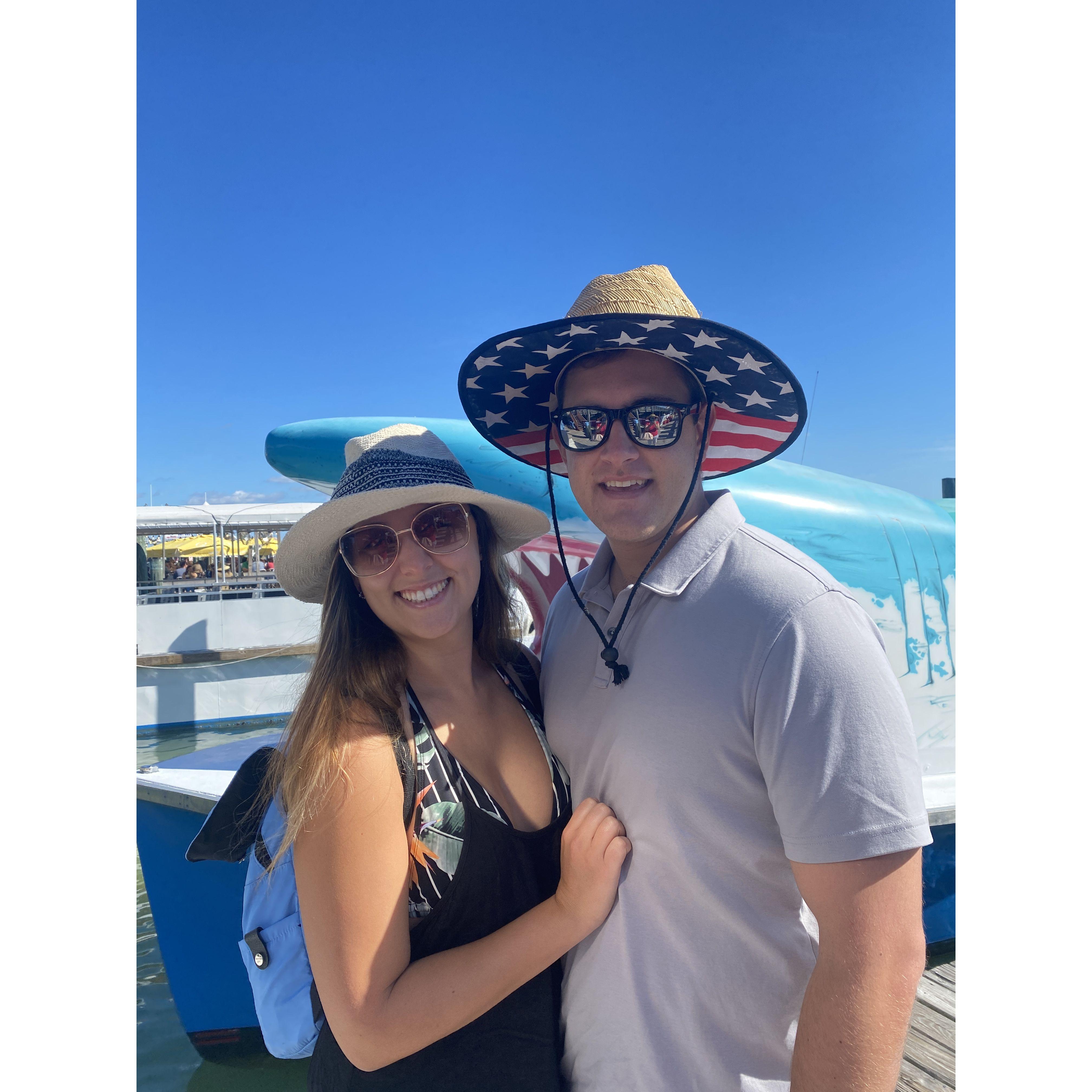 A boat day in Bradenton, FL with Fred's family!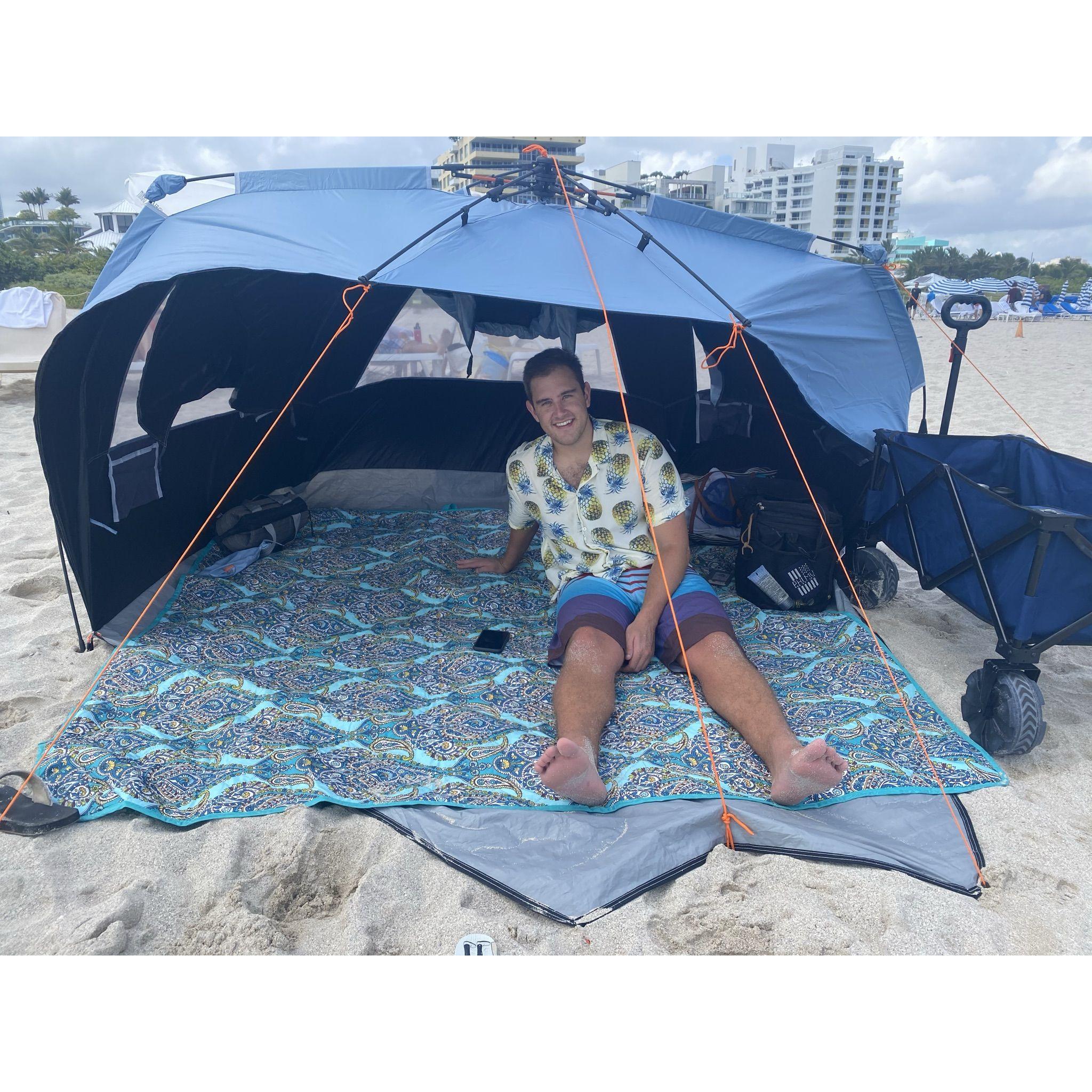 On most weekends, Fred and Jordan try their hardest to make it to the closest beach. They set up their beach tent and enjoy a beer while listening to country songs on the JBL speaker and watching the tide roll in.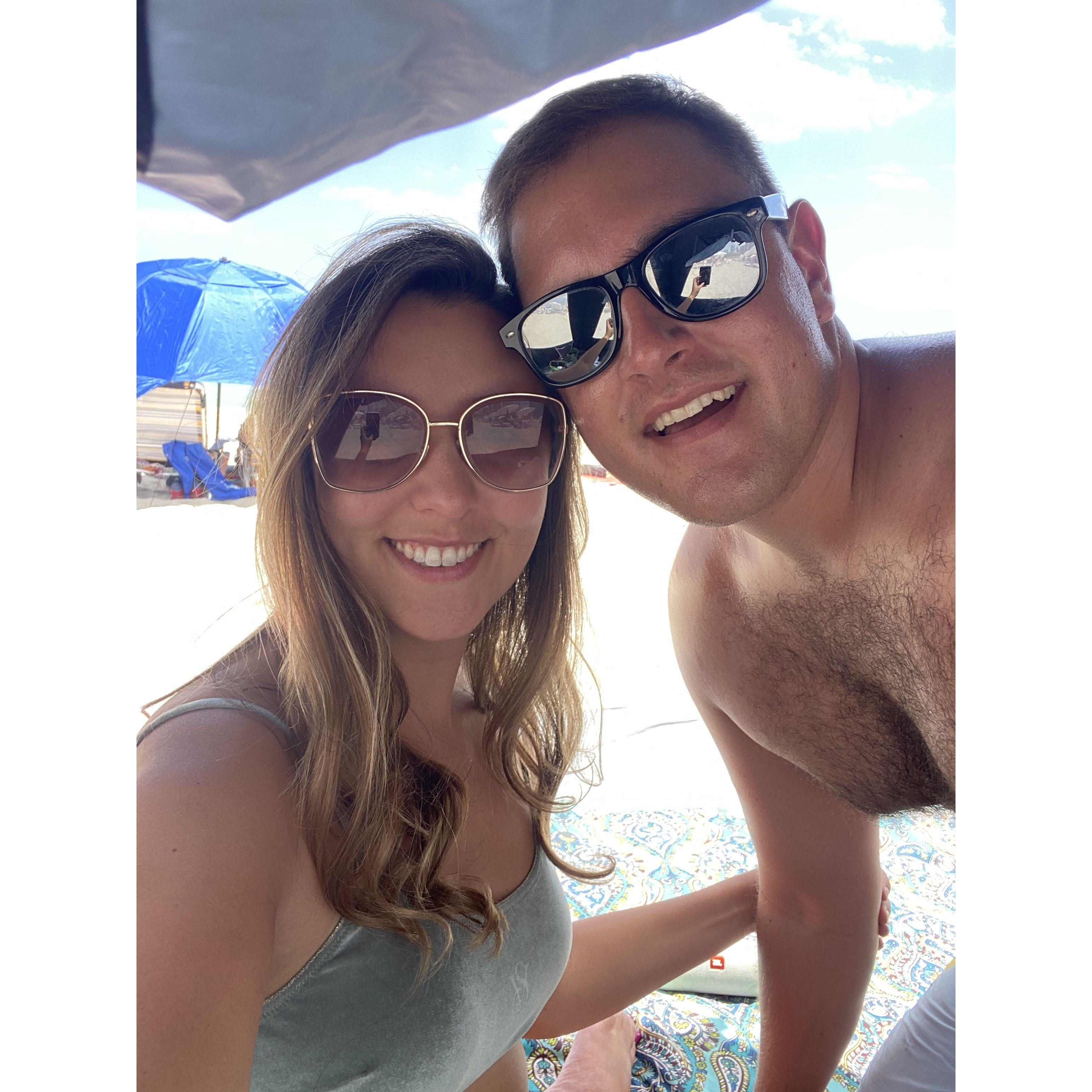 A view from inside the favorite beach tent! A typical sight for Jordan and Fred on most weekends!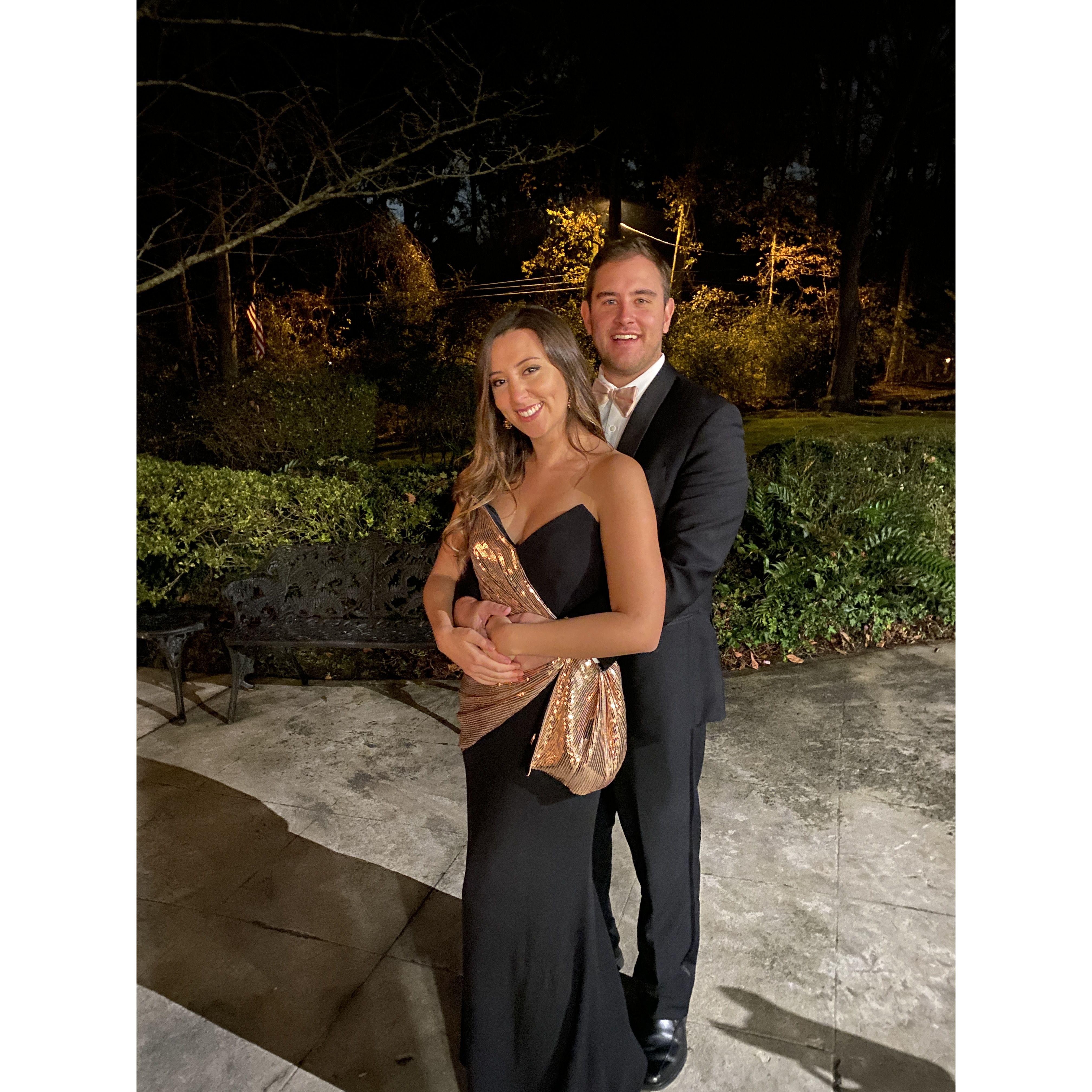 You can dress them up, AND take them out! Jordan and Fred enjoy their dear friends Ansley (Bridesmaid) and Zach's wedding in Atlanta, circa December of 2021.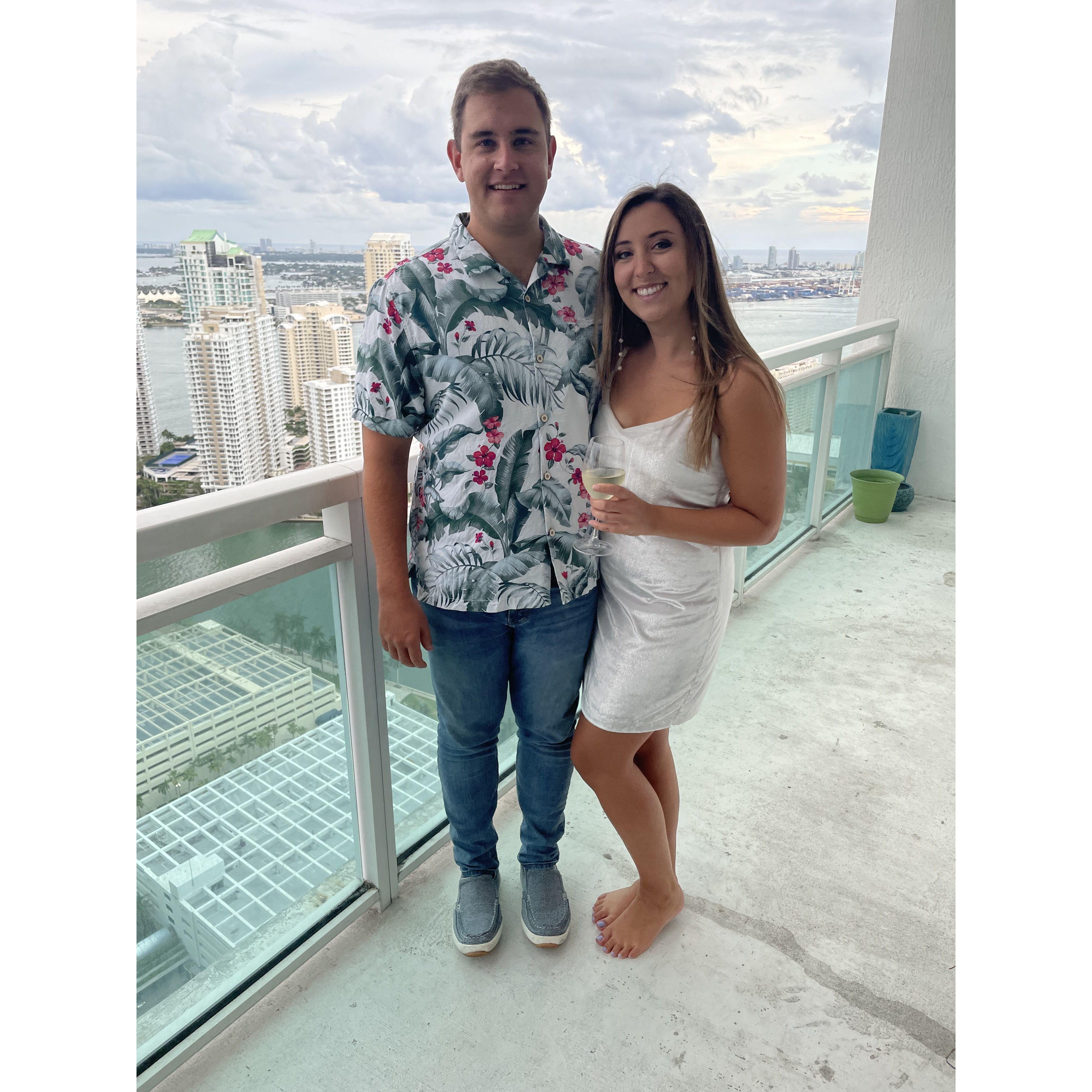 Fred and Jordan treasure the beautiful view and the memories they made from their Brickell Apartment. But celebrate their next adventure before they move to the Palm Beaches!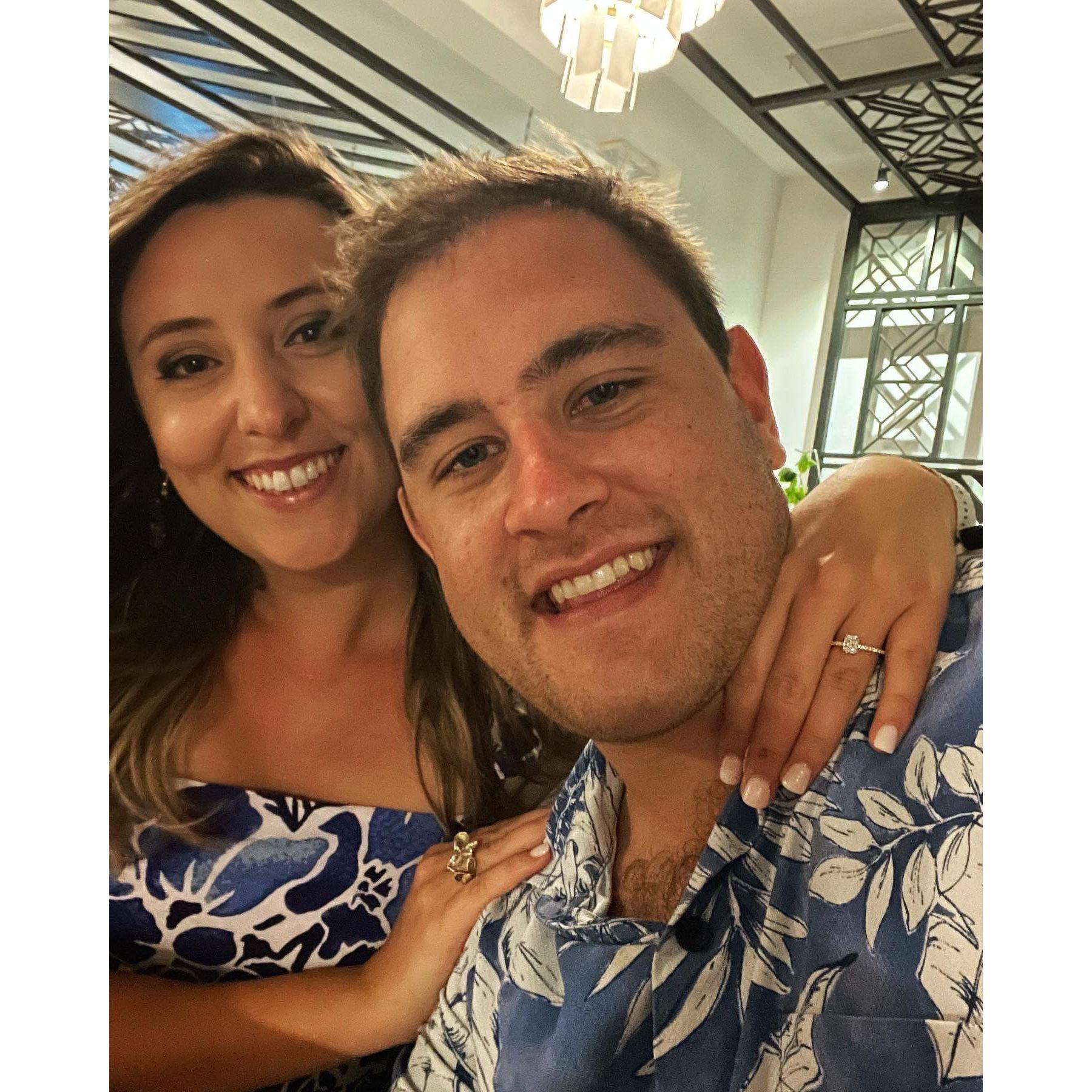 A couple hours after Jordan said 'YES' to Fred's proposal, they enjoy a romantic dinner at their resorts Mediterranean restaurant. The two are on Cloud 9!! Happiest day of their lives!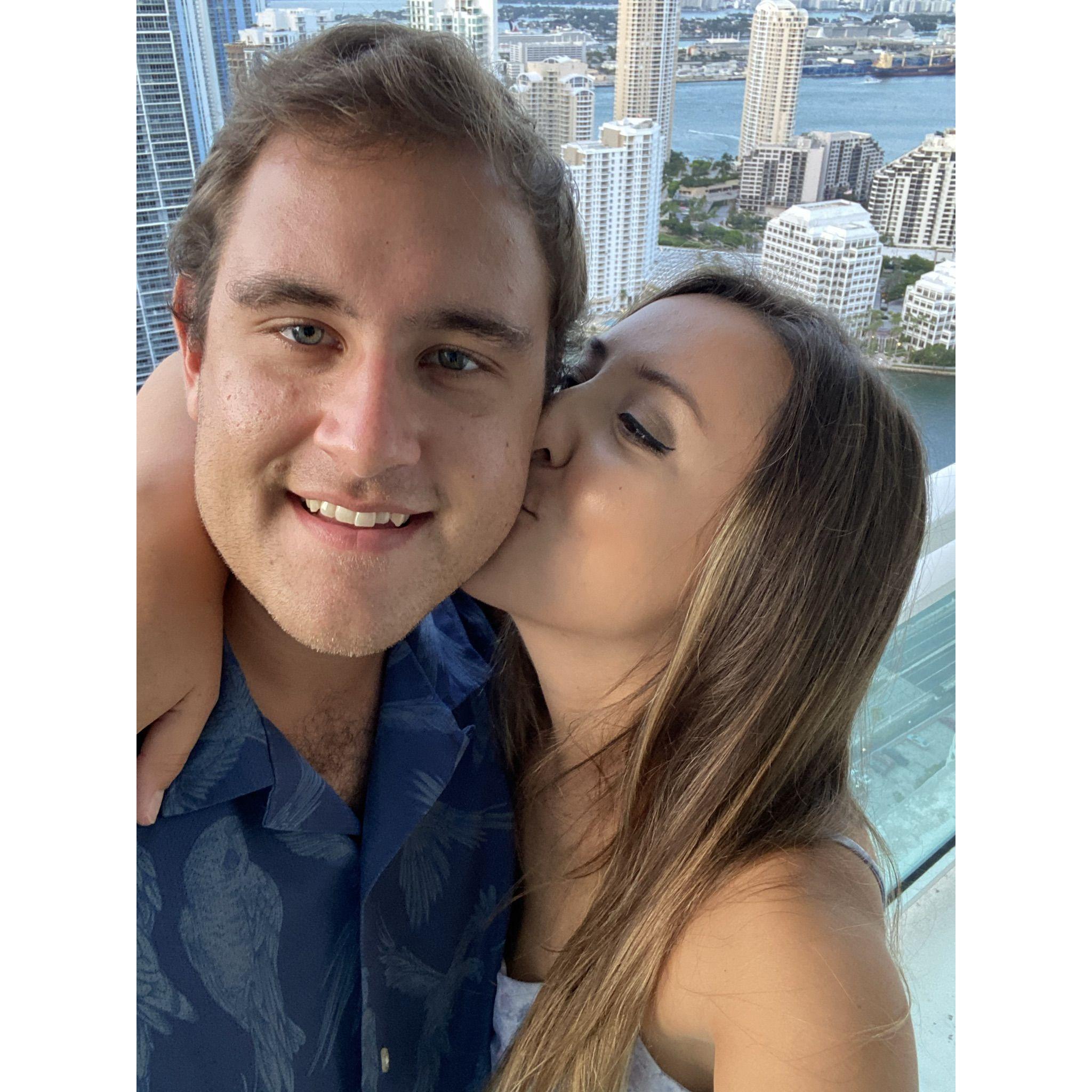 The two share one of their final kisses from the Brickell apartment balcony before moving out and setting their sights on their next adventure!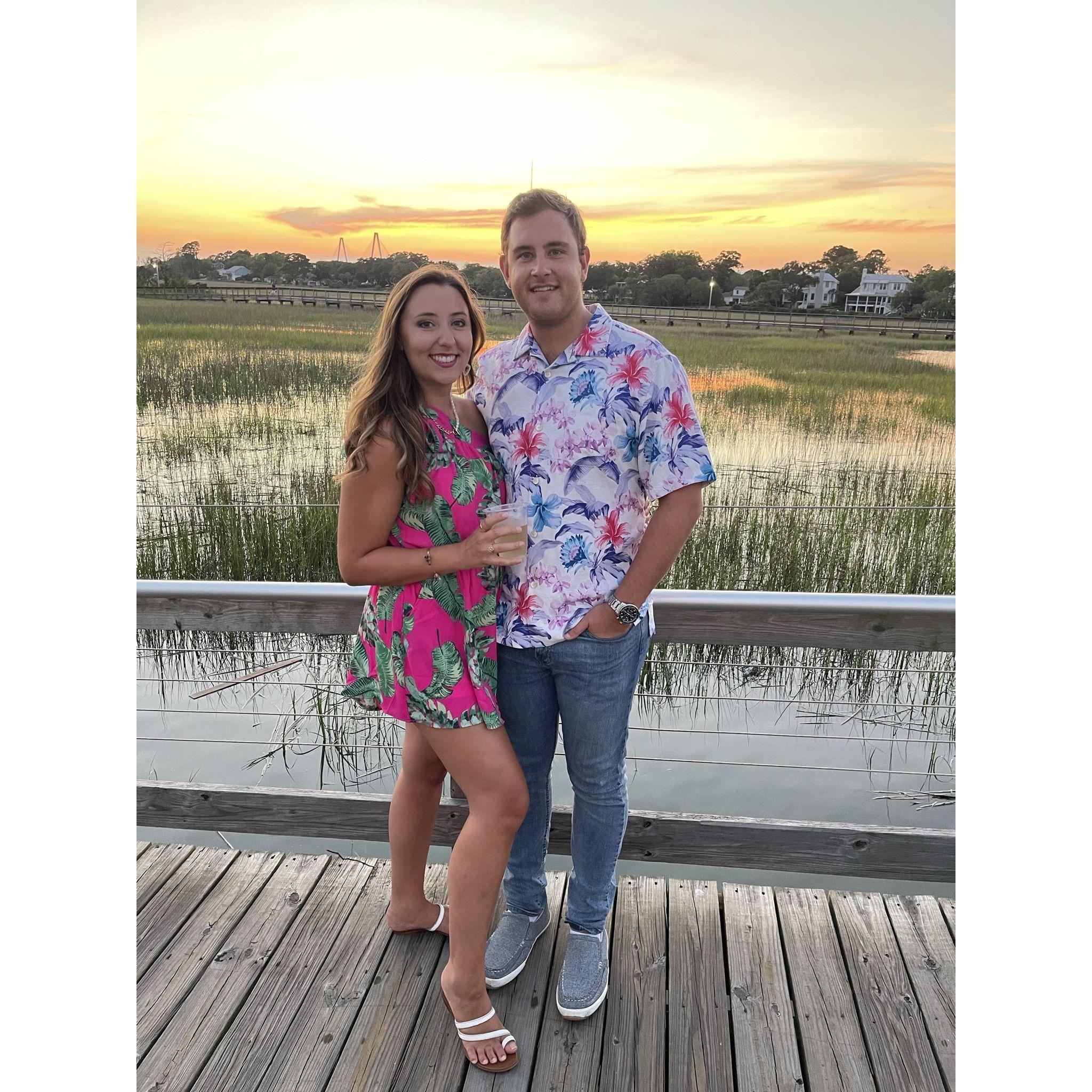 Jordan and Fred visit their Friends (Ansley and Zach) in Charleston on Memorial day weekend 2022!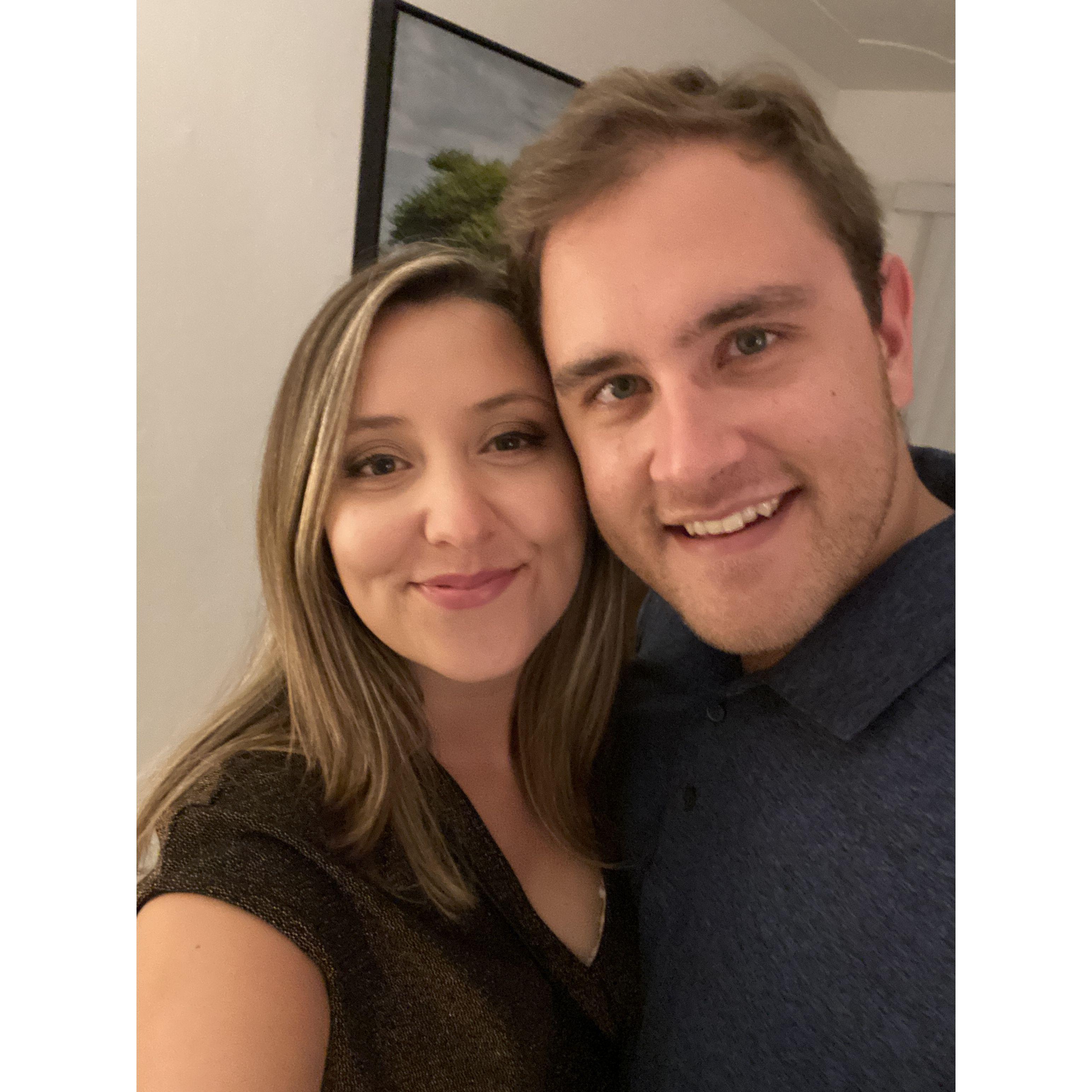 A first date night out in their new city - North Palm Beach!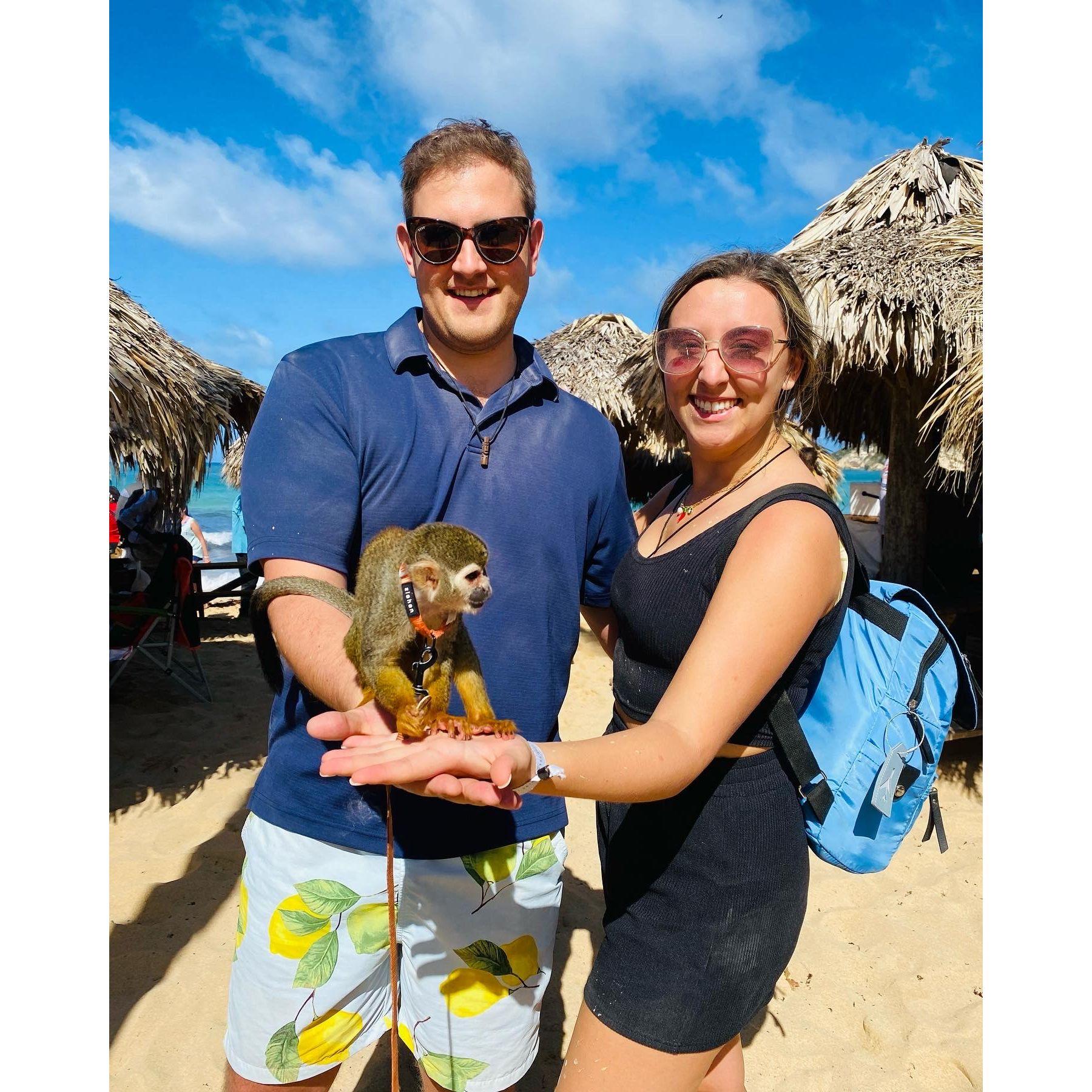 About 6 hours before Fred got down on one knee! Jordan had no idea the romantic evening Fred had planned for her.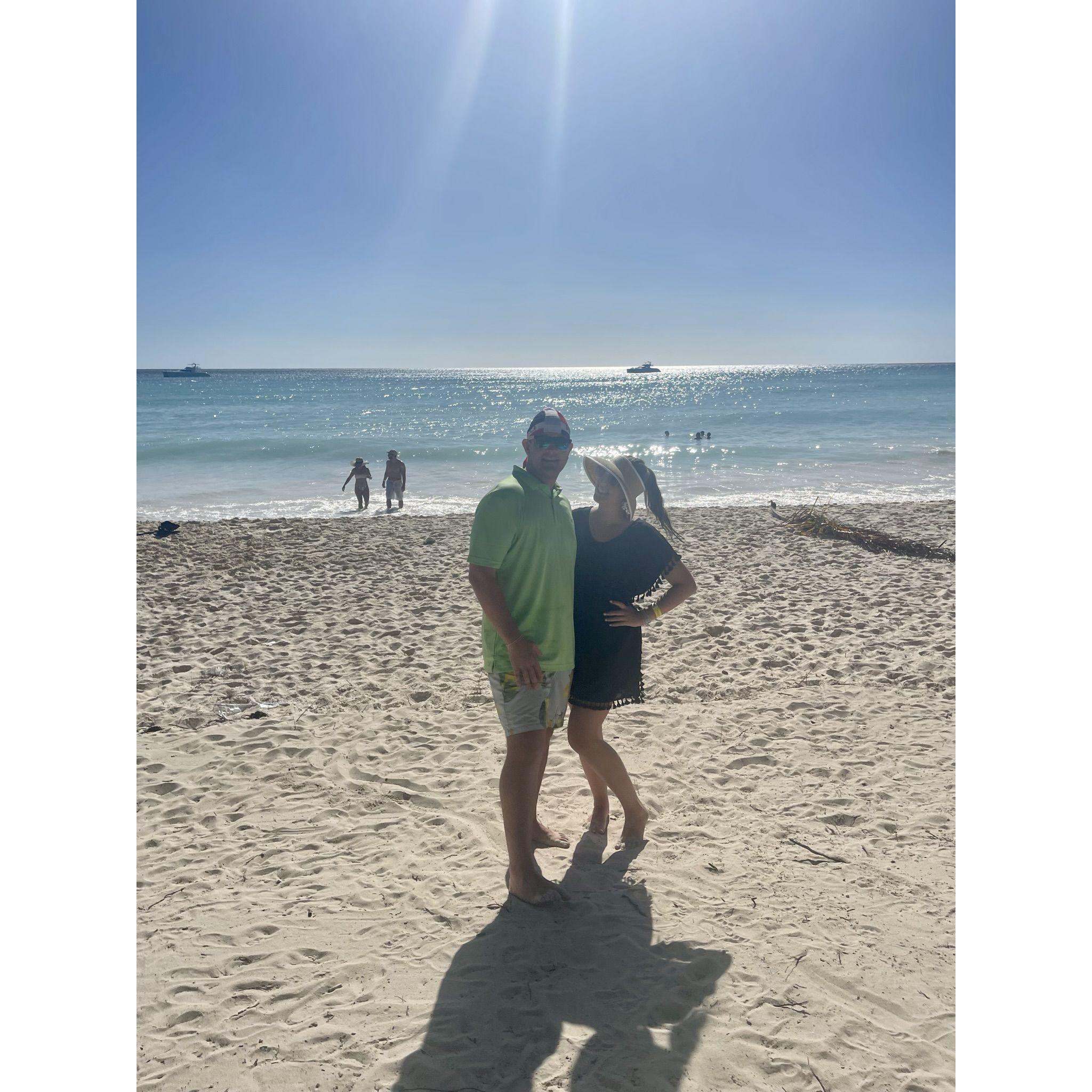 Jordan and Fred enjoy an Dominican Republic excursion to Saona Island on their first day as an Engaged couple! White sands, crystal blue waters and a whole lot of Mamajuana!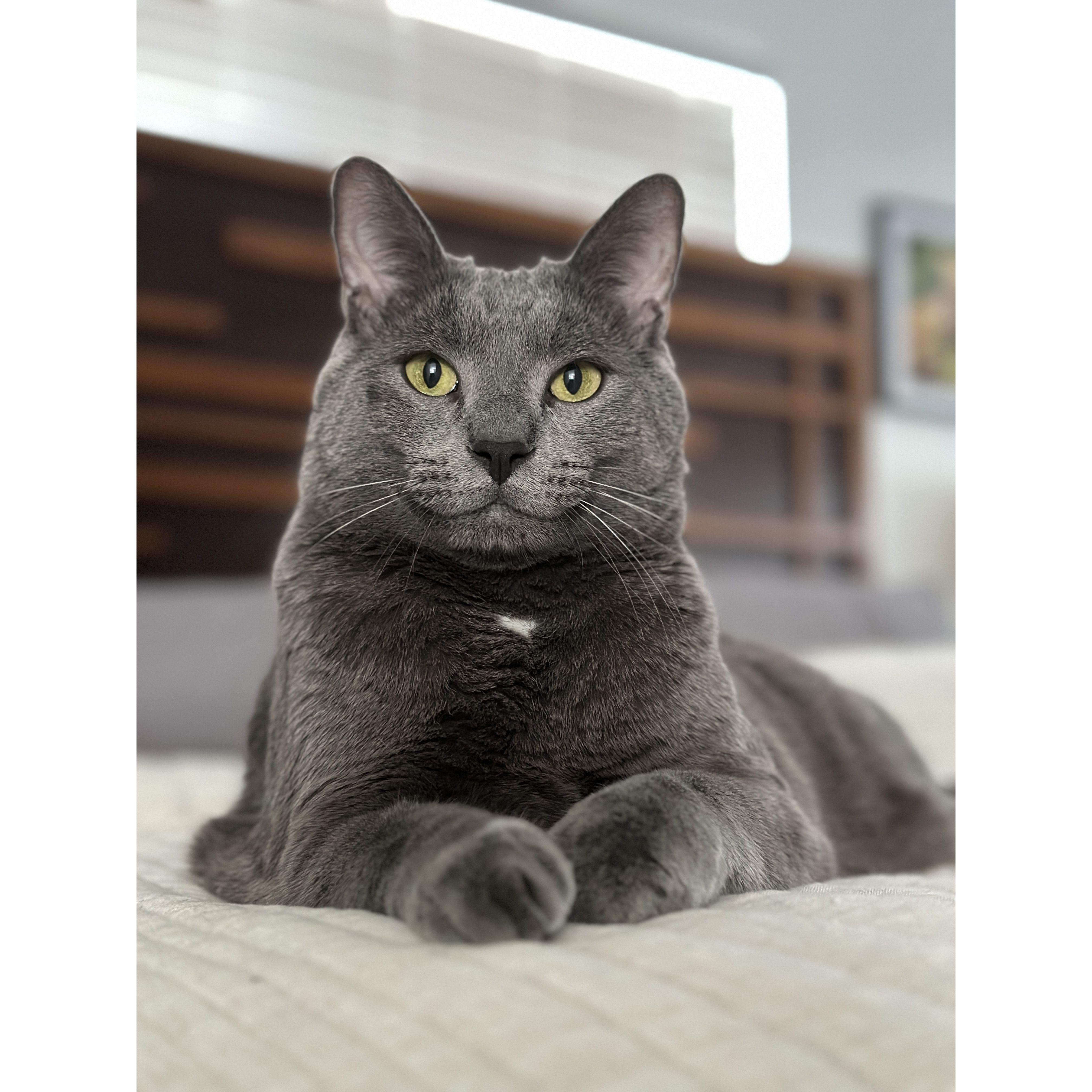 The real star of the show <3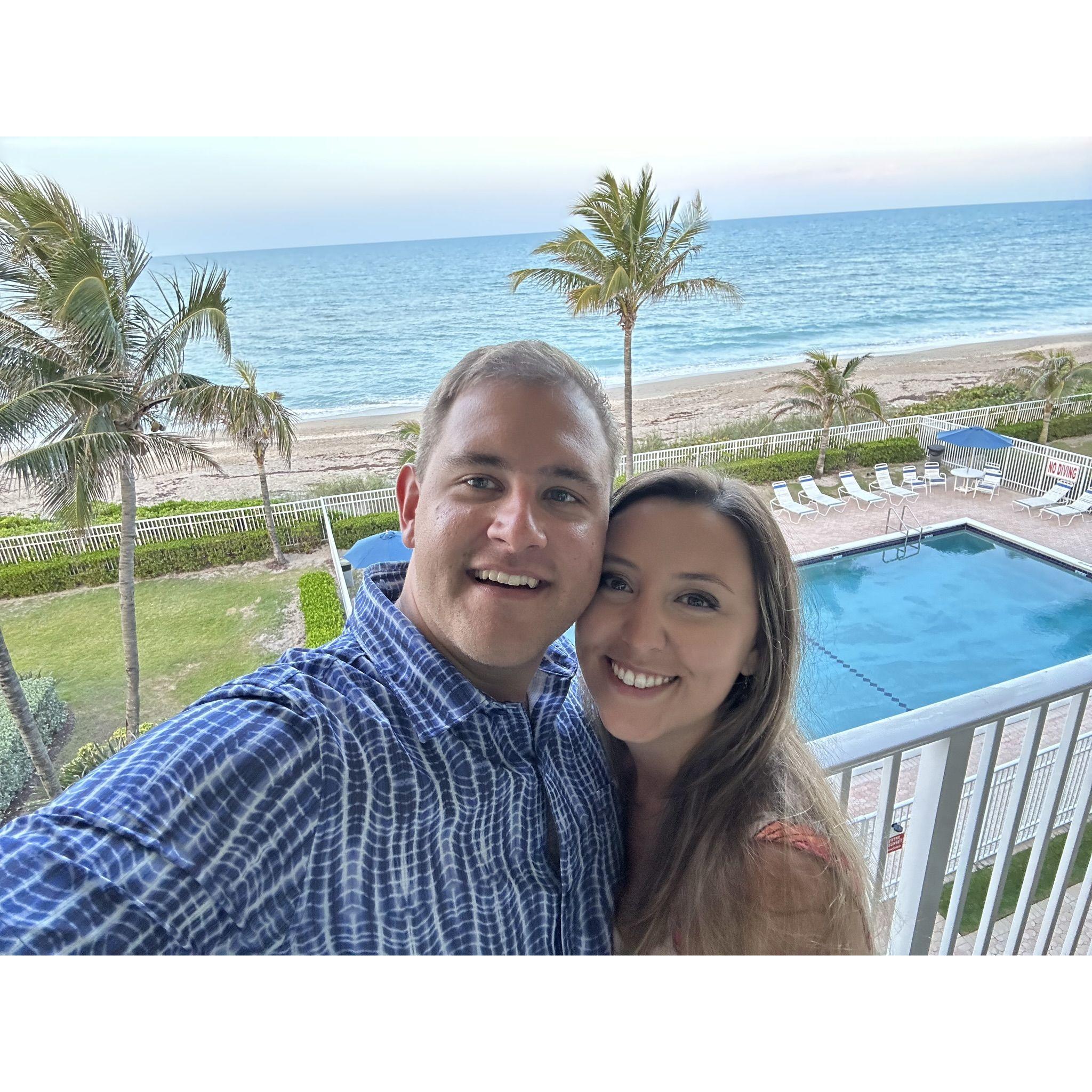 Fred takes Jordan on a romantic 'stay-cation' for her 28th birthday! The two enjoy a beach front condo in Hutchinson Island after they just said 'YES' to their wedding venue!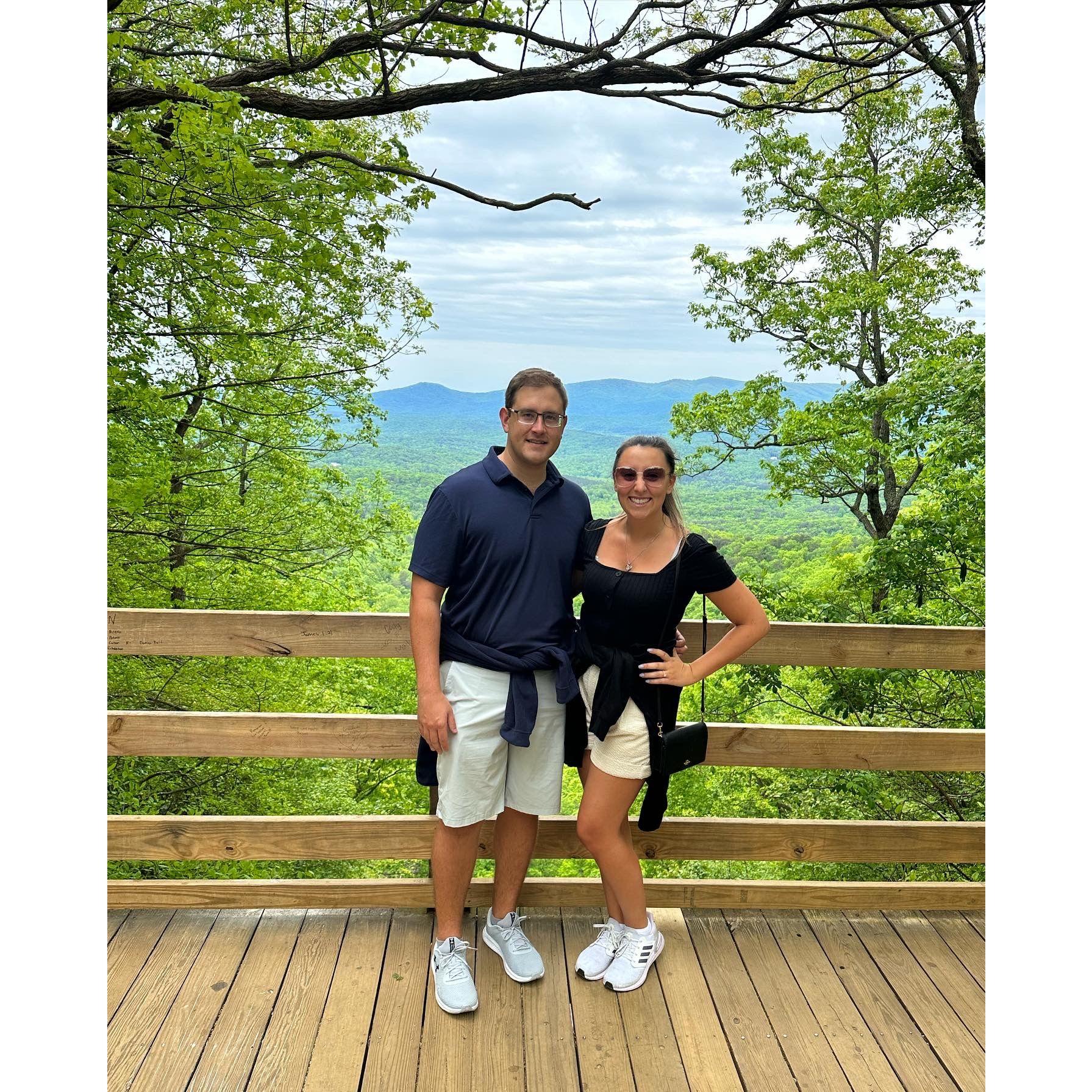 Fred and Jordan travel up to North Georgia for a dear friends wedding. During their visit, the two hike 600 steps to the top of Amicalola Falls, a first-time experience for Fred!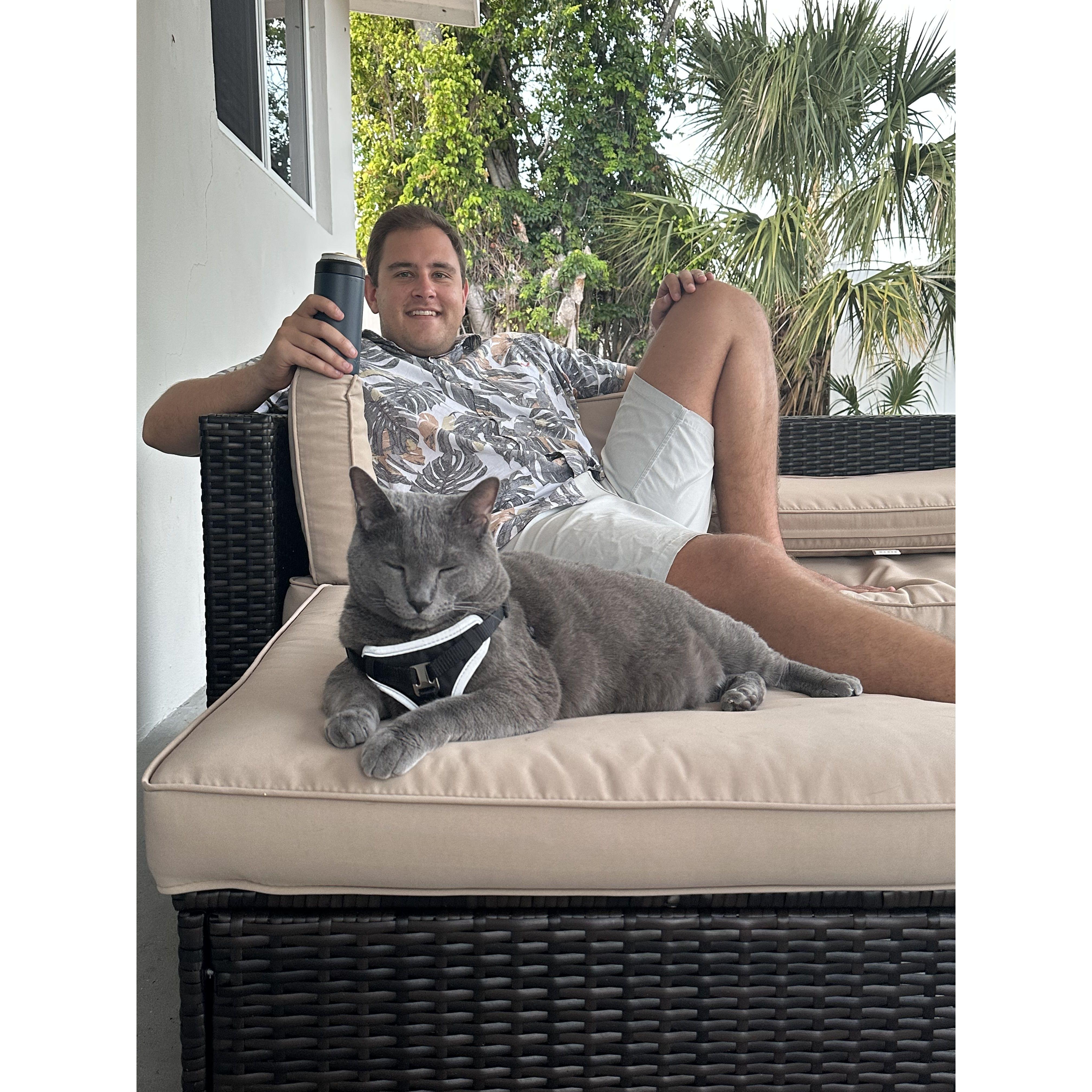 Fred, Jordan and their sweet cat, Romeo enjoy evenings on their outdoor patio in their new Palm Beach home. They anxiously await the big day to come! 2.11.2024 <3