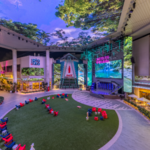 Distrito T-Mobile
250 Convention Boulevard, San Juan, San Juan 00907, Puerto Rico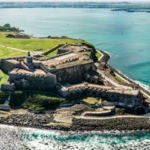 Viejo San Juan
San Juan, San Juan, Puerto Rico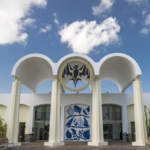 Casa Bacardí
Puerto Rico 165, Cataño, Cataño 00949, Puerto Rico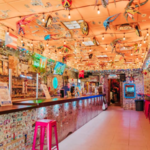 Los 3 Cuernos
359 Calle de San Francisco, San Juan, San Juan 00901, Puerto Rico
This is the bar where Celanie took Aaron on his first visit to PR for $1 shot Chichaitos.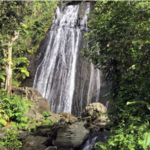 El Yunque National Forest
Puerto Rico
We went here on Aaron's second day in PR after Celanie made him drink so much. Yes! She took him on a hike after a long night of drinking.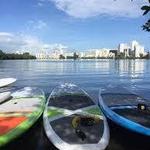 Laguna del Condado
San Juan, San Juan 00910, Puerto Rico
Paddle Boarding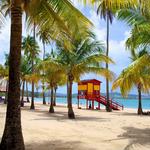 Luquillo Beach
Luquillo 00773, Puerto Rico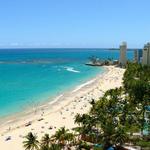 Isla Verde Beach
Carolina, 00979, Puerto Rico
Because of its proximity to SJU airport, this award-winning beach is popular among visitors. One of the best beaches in the metropolitan area, Isla Verde is golden-sand shores are framed with tall palm trees, hotels, restaurants, and shops. Isla Verde beach is divided into three main beaches: Pine Grove, where locals go surfing; Alambique, a more relaxed strip of sand; and the Balneario de Carolina, a more relaxed location with lifeguards and parking space.
Bahía Bioluminiscente
Puerto Rico
Bioluminescence can be found in many places all over the world, but there are only five bioluminescent bays in the world. Lucky enough, three of them are in Puerto Rico. These are the Fajardo Bioluminescent Bay, La Parguera in Lajas, and Mosquito Bay in Vieques. A bio bay is a fragile and rare ecosystem that allows tiny dinoflagellates to develop and glow when the water is disturbed. The glow is quite surreal to witness! The Mosquito Bay in Vieques is so bright, that it was officially introduced in the Guinness Book of World Records 2008 as the brightest bioluminescent bay ever recorded. If you're interested in going, we recommend you book in advance since these types of activities are guided tour groups.
Casinos
Casinos, VC 46171, Puerto Rico
Gambling is legal in Puerto Rico, as long as the casino is inside a hotel. Whether you're a fan of blackjack, poker, or the slots, there are plenty of places for you to play your cards right. Whatever your travel plans entail, don't hesitate to test your luck while on the Island.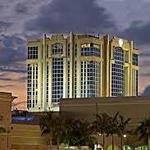 Plaza Las Américas (Shopping Mall)
525 Avenida Franklin Delano Roosevelt, San Juan, San Juan 00918, Puerto Rico
Plaza las Americas is the Caribbean's largest shopping center.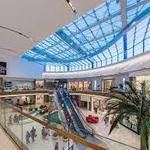 The Mall of San Juan
1000 The Mall of San Juan Boulevard, San Juan, San Juan 00924, Puerto Rico
The Mall of San Juan is Puerto Rico's premier destination for high-end shopping, dining, and deals. Just minutes away from Luis Muñoz Marín International Airport (SJU), this can be the first (or last) stop on your vacation.