Castello di Montalto
Strada Comunale di Montalto 16, Castelnuovo Berardenga, Toscana 53019, Italy
This is the wedding venue!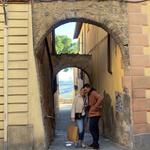 Montepulciano
Montepulciano, Tuscany 53045, Italy
We went here during our first trip to Italy together. There is an awesome winery called De Ricci as well as many shops to explore.
San Gimignano
San Gimignano, Tuscany 53037, Italy
Known as the Town of Fine Towers, San Gimignano is famous for its medieval architecture, unique in the preservation of about a dozen of its tower houses.
Siena
Siena, Tuscany 53100, Italy
Siena is an eminent medieval city with a UNESCO-listed historic center. Surrounded by a well-preserved 1,000-year-old wall, there is so much beauty inside this city.
Cugusi Silvana E C. S.N.C.
8 Via della Boccia, Toscana 53045, Italy
This is a fun cheese shop with an amazing view. They allow you to pick out some cheese and wine then let you picnic anywhere on the property! The shop has some beautiful views of the surrounding towns.