Historic Downtown Fernandina Beach
Stroll along Centre Street to explore the unique shops and restaurants.
Our favorite restaurants
T'Rays Burger Station ($): great breakfast and burgers Espana Restaurant & Tapas ($$): impressive wine list The Boat House ($$): relaxed atmosphere for seafood and grill options Timoti's Seafood Shak ($): Great with kids Down Under Restaurant ($$): waterside views, fresh seafood Burlingame Restaurant ($$$): inventive dishes made from locally sourced ingredients HOLA Cuban Cafe ($): authentic Cuban sandwiches, coffee, and pastries Salty Pelican ($$): A popular spot with a great view of the Fernandina Harbor La Sureña Restaurant ($): A great place inside Mexican grocery store Wicked Bao ($$): Asian street food with a modern twist Bar Zin Bistro & Wine Bar ($$): American bistro with a wide selection of wine near the Omni. Salt Life Food Shack ($$): Casual eatery near Main Beach Coquina ($$$): Modern, locally-sourced Italian dishes in a stylish setting Pogo's Kitchen ($$$): Southern-inspired dishes near the Omni
Breweries
Mocama Beer Company ($$): a variety of craft beers, a partner of Creature Comforts in Athens First Love Brewing ($$): craft beers and a menu of delicious, beer-friendly food.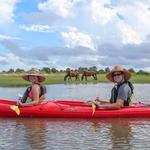 Kayaking and private Boat Tours
Explore the waterways around Amelia Island on a guided kayak or private boat tour with Abbie's brother and sister-in-law's company Amelia Adventures. You can see wildlife, such as dolphins and manatees, up close.
Fort Clinch State Park
2601 Atlantic Avenue, Fernandina Beach, FL 32034
This park features a 19th-century fortress, nature trails, beaches, and a fishing pier.
Relax on the Beach
Amelia Island has 13 miles of pristine beaches. Our favorites are: Main Beach Park, Peters Point, and American Beach. Boneyard Beach on Talbot Island is wonderful for a stroll among the driftwood.
Golfing
Tee times can be made at Omni Amelia Island or The Amelia River Club.
Kingsley Plantation
11676 Palmetto Avenue, Jacksonville, FL 32226
Visit the grounds and buildings of a sea island plantation, about 20 minutes south of Amelia Island in northeast Florida. According to the National Park Service, the Kingsley Plantation house, constructed in 1798, "is the oldest planter's residence still standing in Florida."