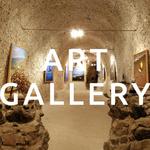 Art Space Art Gallery - Winery - Museum
Exo Gonia, 847 00, Greece
Visit ART SPACE in Mesa Gonia. An amazing place with big exhibition halls in an old cave winery which not so many tourists knows about. The owner Antony also make his own wine using only natural preservatives.
Argyros Mansion "Αρχοντικό Αργυρού"
Mesaria, 847 00, Greece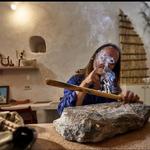 SYMPOSION CULTURAL CENTER | Music - Art- Mythology
Megalochori, 847 00, Greece
For a more cultural experience visit Symposium Cultural center where you make your own traditional instruments or join an evening concert where they play music with handmade instruments including a bagpipe and music starting from B.C up til today. Not touristic at all.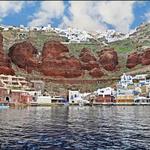 Therasia Island
847 02, Greece
Visit Thirassia island!! Take the foot boat from Ammoudi port (cost is less then 2 euros) to Thirassia. It's like going back 50 years in time.. The boat stops in Riva port first where you go ofg and take the bus up to Manolas village, the ticket is included in the price. If you like trekking, walk from Manolas to the monastery (about 45 min), the view over to Santorini is magic! Or just walk to the church of Agios Charalampos. The view beside the graveyard is anazing. Eat the very good Moussaka at Panorama Restaurant in Manolas and walk back to Korfos port to take the boat back. Boat leave Ammoudi port at 8.00 or 12.45. It return from Korfos at 12.15 and 17.00.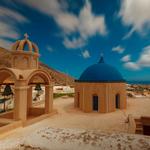 Emborio Village
Emporios, 821 02, Greece
Visit Emborio village (the old part, the new is pretty ugly) , around the old castle/Kastro, have a snack at To Kafenedaki Tou Emboriou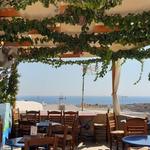 The old Cafe Barbershop