Breakfast & Coffee
**From Scratch **Lafayette Bakery & Cafe Rise Bakery + Roam Restaurant Stationæry Tuck Box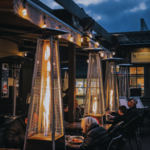 Lunch & Dinner
Aubergine $$$$ Alvarado Street Brewery & Bistro $$ Anton & Michel Restaurant $$$ Casanova $$$ Dametra Cafe $$ La Bicyclette Restaurant $$ ***Nepenthe $$$ Osteria Al Mare $$ Seventh & Dolores $$$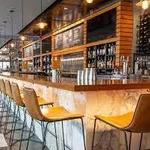 Breweries
Alvarado Street Brewery Carmel Craft Brewing Company Other Brother Beer Company Slough Brewing Collective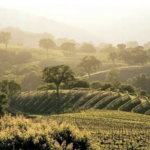 Wineries
Monterey County is known for excellent wines. Below are a few top recommendations for tasting rooms and vineyards. Albatross Ridge Tasting Room - specializes in Chardonnay and Pinot Noir Bernardus Vineyards & Winery - known for Chardonnay, Pinot Noir, and Sauvignon Blanc Boekenoogen Wines - specializes in Pinot Noirs, Chardonnays, and Cabernet Caraccioli Cellars - known for Pinot Noir, Chardonnay, Brut, and But Rosé De Tierra Vineyards - offer broad variety Folktale Winery & Vineyards - Pinot Noirs, Chardonnays, and Cabernet *Holman Ranch - known for Pinot Noir and Chardonnay If you're interested in a walkable wine tasting journey, Carmel-by-the-Sea Wine Walk is great option. Click the link below for more information.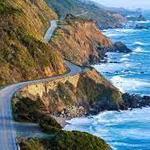 17 Mile Drive
17 Mile Drive
,
Del Monte Forest, CA
17-Mile Drive is a scenic road through Pebble Beach and Pacific Grove on the Monterey Peninsula in California, much of which hugs the Pacific coastline and passes famous golf courses, mansions and scenic attractions, including the Lone Cypress, Bird Rock and the 5,300-acre Del Monte Forest of Monterey Cypress trees.
View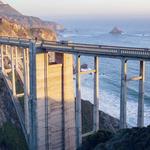 Scenic Spots
Big Sur, CA
Lone Cypress Bixby Bride McWay Falls Pfeiffer Beach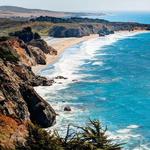 Trails & Hikes
Creamery Meadow, Bluffs, Panorama, and Ridge Trail Loop (moderate) Cypress Grove Trail via South Shore Trail (moderate) Garrapata Bluff Trail (easy) Pfieffer Falls Trail (easy) Point Lobos Loop Trail (moderate) Soberanes Point and Whale Peak (easy) South Plateau Trail to Bird Island (easy)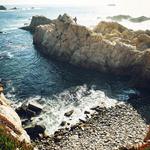 State and National Parks
Monterey County, CA
Garrapata State Park Julia Pfeiffer Burns State Park Pfieffer Big Sur State Park Point Lobos State Natural Reserve Los Padres National Forest
View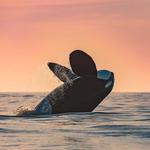 Whale Watching
48 Fishermans Wharf
,
Monterey, CA 93940, (831) 375-5951
The BEST time to see humpback whales in Monterey Bay is March through November, with peak sightings generally during July and August (though every season is different).
View